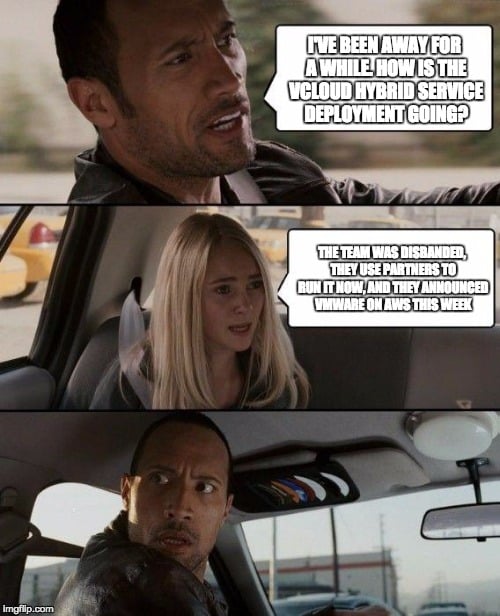 VMware did what many would have thought would never be the done.  They announced the upcoming launch of VMware on AWS.  Frank Denneman did a great write up (thanks Frank!) that covers the first announcement and some of the details.  There have been lots of opinions on the announcement, the value to customers, and the impetus of the product launch that have already come out.  This is a little of my view from what I've seen and some general industry knowledge from my own experience.
Some quick thoughts on why this happened
This could be a post that would go on for 10 pages.  Let's just keep it simple.  Here are the first things that I go to as reasons around the announcement.
AWS doesn't want to deal with on-premises – this gets the best of both worlds.  AWS gets revenue, and someone else supports it.  They get margins, and only deploy as needed.  They already own the datacenters, and dedicated hosts is an easy business to grow for them.  It's like running AirBnB for the VMware team.  AWS just has to own a bunch of hardware (they already do) and make it available easily (they already do).  Voila!
VMware in AWS makes a nice hybrid model – hybrid is about being able to handle workloads across different deployments.  That could be different underying architecture, or just public and private clouds running the same thing.  I'm assuming that the requirement for this will be VMware Cloud Foundation in the ideal scenario.  Bridging to the on-premises data center will be the easy part once they have like-for-like on the hosting bits at and above the hypervisor.   Frank does indicate that it contains core features that we know (vSphere, NSX, VSAN), but it will not be the traditional vSphere platform we see in data centers today.
AWS is eating many tech vendor's lunch.  Why not take a taste? – If you know that the schoolyard bully wants to meet you in the parking lot at recess, you can either run away and just delay the inevitable, or you can take a run at it with them.  AWS has a distinct model that cannot be replicated by most tech vendors.  VMware may as well get some revenue and not have to deal with the hardware.  I won't go on about the multi-billion dollar addressable market, and all that stuff.  Let's just think of it in the context of what we know of today.
Moving to the next VMware release will be forced by the adoption – Not just in the AWS offering, but to truly leverage all the feature sets, you'll most likely need the same bits back in the data center.  This is a great way to drive upsell of the new platform to on-premises customers.  It becomes a limitation to the new goodness if you don't.  Again, this is based on some assumptions about how the connectivity and co-management of on-premises and on-AWS will work.
Microsoft Azure Stack  is here 2Q of 2017 – It looks very cool, and is right up the alley of customers who are already deeply entrenched in Microsoft ELAs.  Much of today's VMware hosted guest are most likely a Microsoft majority.  That's the enterprise and SMB to mid-market menu.  We complain about Microsoft a lot, but the reality is they own the desktops, the productivity apps, and much of the on-premises server environment.  Azure Stack has the chance to bridge to the gap to make Microsoft your partner for every layer of the IT stack.  It is in technical preview already, and is set to launch to general availability in the second quarter of 2017.
AWS is converting VMware workloads – There are products today which are chipping away at the VMware guest environments.  AWS has the CLI version already, and also a vCenter plugin.  Many other vendors have similar offerings as well.  AWS may have been "kind" in offering the vCenter plugin, but the reality is that it is there to show you how easy it is to get your workloads in the AWS cloud.
There are lots of other reasons, but those stand out as top ones in my opinion.
Winning with VMware on AWS
Familiar APIs, a single Enterprise License Agreement that you can easily re-up every year, and of course the proverbial "one throat to choke" with support.  That's what many enterprise audiences seek when they look towards embracing a new platform.  This isn't a new product as much as it's a new way to consume the same old comfortable thing you've know up to this point.
VMware will win because it is the checkbox they have been missing.  Having the backing of AWS as the data center alleviates some of the previous concerns around how vCloud Air (nee vCloud Hybrid Service) evolved.  See a great post by John White on that evolution from a service provider's view here.
Customers will enjoy the warm embrace of that comfy blanket they've learned to love since VMware effectively defined the virtualization scene for enterprise, mid-market, and SMB customers.
Challenges with VMware on AWS
This slows down the buying cycle for everyone else.  It is more of a challenge for competitors than it is for VMware customers when that is the primary effect.  The other thing will be readiness of the customer to consume the new platform.  vCloud has not taken hold like any of the VMware suite of tools has.  There were technical and business challenges in taking it on.  Let's hope that the onramp to VMware Cloud Foundation will be a smoother one.
Pricing is the next one.  It may actually be the biggest one for many.  You're going to have to pay for VMware platforms, and somehow, the price of AWS is buried inside of that number.  Will it be a VPN connection to your environment offered as a part of the VMware toolkit, or will it require the traditional AWS VPN (requires hourly spend), or a direct connect (requires a contracted commitment with your line provider).  Features may be there, but if the cost is prohibitive, it will deter or delay adoption.
Final Thoughts
Nothing happens overnight.  If you think that this was developed during the last few weeks to respond to something, you've probably not seen how VMware designs and develops enterprise solutions.  They tend to take years, if not many, many months at the very least.  The products we see launching today have been in the pipeline for quite some time.
If this was really a response to anything, I would bet that it is a response to the Microsoft Azure Stack.  At the same time, VMware were due for a new approach.  vCloud Air was close.  Perhaps it was just the right iterative step needed to get us to the next thing.
I'm looking forward to seeing more as the technical details are released and the product becomes generally available.