UPDATE WITH ON-DEMAND LINKS:
Episode 1 – The Idea: Watch On-Demand
Episode 2 – Building the Team Watch On-Demand
Episode 3 – Product Management for Hackathons Watch On-Demand
Episode 4 – Watch Live 7/25 here: https://www.youtube.com/c/EricWrightDiscoPosse/live
[rule style="rule-dotted" ]
Have you ever thought about joining in on a Hackathon but you didn't because you don't know your Foo from your Bar?  The reality is that most hackathons are aimed at developers which can put up a barrier to entry for folks who come from the operations and IT architecture background.  I've written about this in the past here and the response was incredibly positive.  So, now it's time to put that idea into practice!
This is your chance to join in something special that has a lot of excitement building among the technology community.  This is the chance to move from scripting out your simple tasks to participating in the building of a product and project with a team of folks who will bring diverse backgrounds and ideas to the event.  There are few opportunities to do something as meaningful as creating and nurturing both new connections and potentially a product that has an even bigger future!
Hackathon for Ops – The Virtual Design Master 2019 Event
Hosting a hackathon is just one part of the overall experience.  We are featuring a 4-part webinar series leading up to the online (yes…virtual Hackathon from anywhere in the world) event that will be happening in August.   This is where the fun and learning begins.
This is something that we at the Virtual Design Master creative team really feel is needed and the feedback has already been positive.

What can you expect to get out of being a part of the Virtual Design Master Hackathon Event?
Learn the skills you need as you join and plan for a hackathon event
Get past any worries that you don't have coding experience
Seriously, you don't need experience to join a properly inclusive hackathon
Discover how to find peers and mentors in the tech community to help you through the process
Have fun while doing all of these things!
The goal for people attending is to also take the confidence and skills you have built through the Virtual Design Master program to take even further by joining an in-person hackathon event such as those coming up at VMworld, Microsoft Ignite, and AWS re:Invent.
Our Virtual Design Master team will be representing at all of these events and will connect and coach for building or joining a hackathon team.
Virtual Design Master Season 6 – The Webinar Series and Hackathon
Live dates for Season 6 webinars which are also completely open and free for registration and will also be available on-demand from Youtube for further viewing.
Episode 1 – June 27, 2019 @ 1PM Eastern Time – REGISTRATION LINK BELOW

Episode 2 – July 11, 2019 @ 1PM Eastern Time – REGISTRATION LINK BELOW

Episode 3 – July 18, 2019 @ 1PM Eastern Time – REGISTRATION LINK BELOW

Episode 4 – July 25, 2019 @ 1PM Eastern Time – REGISTRATION LINK BELOW
The Virtual Design Master Hackathon date is being firmed up to occur in the first half of August.  The event will be 100% online and participation from anywhere in the world means that this will truly be an incredible, and inclusive opportunity for everyone.
EPISODE 1 – The Idea
Before you jump into the hackathon, you need an idea.  This session is going to unpack industry tips on how to come up with an idea and evaluate how you and your potential team can decide what's the right product approach to build.  This extends beyond a hackathon into every day technology life and will feature some great experiences shared with you and make sure you're ready to go from idea to product!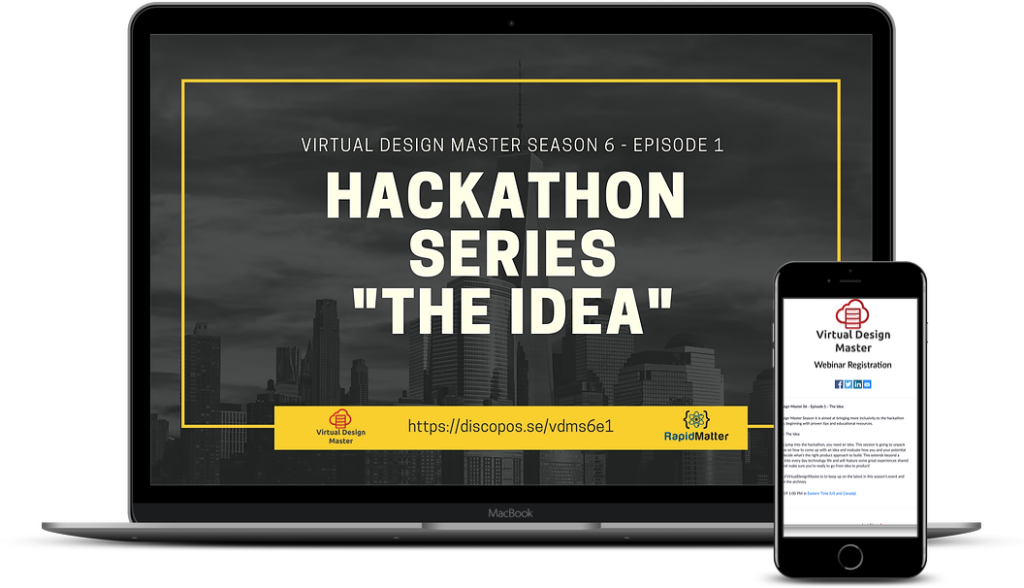 EPISODE 2 – Building the Team
Now that you have your idea, it's time to think about how to recruit and assemble the team.  Team building in and out of the hackathon environment requires some thought of skills matching, evaluating personality traits and strengths, mentoring, and much more.  This episode explores the world of effective team building for your hackathon including the recruitment process which is very unique in the hackathon style.  These ideas also extend to our day-to-day team and personal experiences and will be effective and usable everywhere you go in business.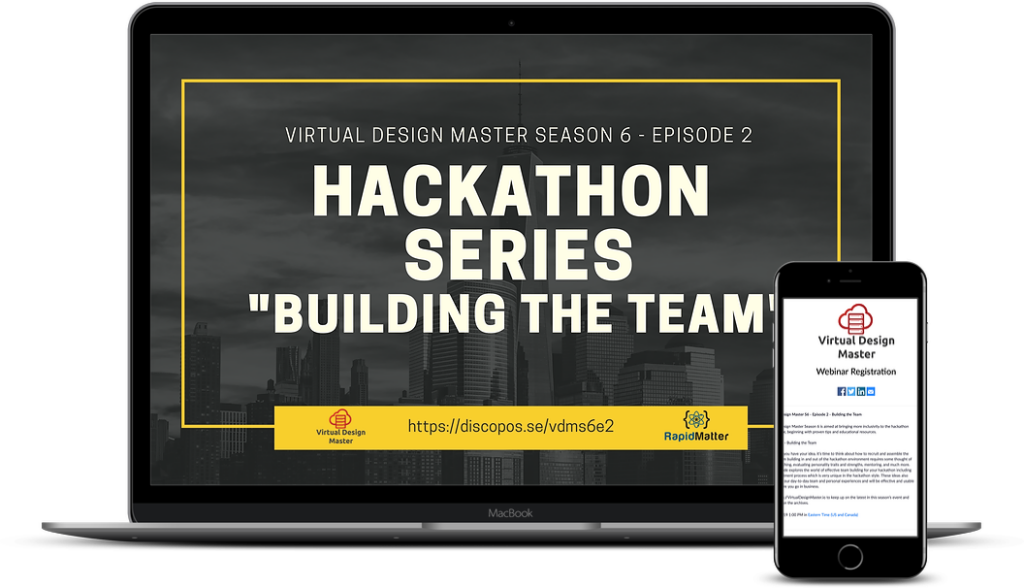 EPISODE 3 – Product Management and Live Hacking Techniques –
Product management and the art of being ruthlessly pragmatic is important enough on a long-form development project, but critically important during a hackathon.  You and your team will need to make quick decisions and carefully manage your team's time and capabilities to deliver a working and winning product at the end of the coding window.  Using experience in product management, product marketing, and in hackathon operations and participation, our VDM team will share how you can put core techniques into play to ensure success in your hackathon experiences.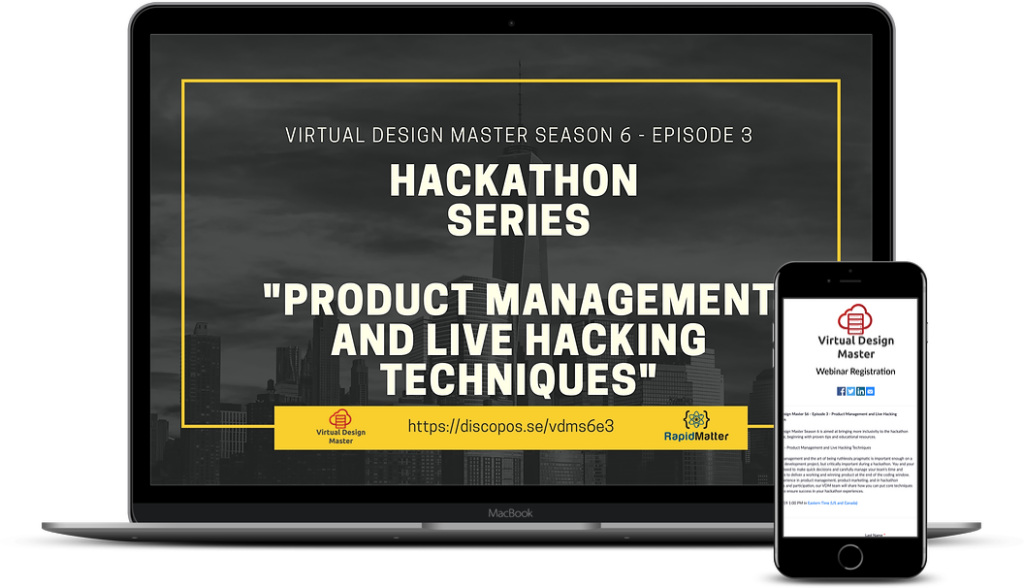 EPISODE 4 – Getting Ready for the Hackathon + Test Pitches
Now that you have followed the three-part webinars you are ready to lean about the hackathon experience and to see and hear your first test pitches.  This session will feature some day-before and day-of logistics, a discussion of how the scheduling and time management go during the live event, and also feature some tea pitches to hear how to do the  product pitch and to do last-minute recruiting or finding a team to collaborate with.