After a whirlwind series of sessions, labs, events, meetups and great time in the hang space here at VMworld 2013 in San Francisco, I can say that one thing stood out about the whole event: People.
People, Process, Technology
I'm lucky to be in a position to be able to evangelize technology to people in my company, while participating in the design, deployment and use of it. Outside of work, I participate in other great ways to learn and share like the #vBrownbag (http://professionalvmware.com/brownbags/) where amazing people bring information to the technology community.
Throughout my career, I found one common denominator to every part of the technology ecosystem: People. That sounds simple to say, but we often forget about the people side of things and we spend our efforts on technology while losing sight of who will consume the service we are creating.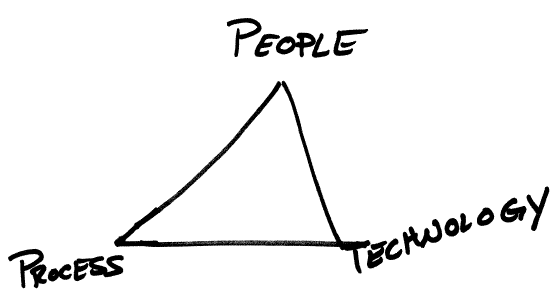 There are a lot of people who subscribe to the PPT triangle when they look at how to align technology and business processes. The understanding that any technology is only as effective as the process it adapts to, and the people that will use it. Without people and process, the technology really has no way to fit into the overall picture.
VMworld – The people
At VMworld, there are a variety of people, from a variety of places in the technology ecosystem. There are customers who are here to see what the direction of the VMware products are going, and to meet up with partners and vendors and to get close to the amazing knowledge that is here in this place right now.
There are the technologists too. This covers everyone from the presenters of the sessions, the developers, bloggers, vendors and evangelists who are here to share their knowledge and dive deep into the technology that is being discussed here.
Then there is the are the business leaders who come from visionary and leadership roles in the companies that have brought us this technology. They may not be technologists in the sense of being down in the trenches writing code and deploying products, but they are responsible for leading change and leading teams to do something amazing. They are the people enablers as much as the technology changers.
The closing keynote featured leaders in startups that are focused on engaging kids into technology using great tools like the MaKey MaKey from JoyLabz (www.joylabz.com), Romotive (www.romotive.com) and the MakerBot home 3-D printing CEO (www.makerbot.com).
These CEOs brought an excitement to the attendees that was as important as the technology that they represent, because the clear message that they brought to us all is that their technology is driven by people.
Bringing the message home to your organization
The takeaway from this, and from most of the technology events that we attend lately is that we need to engage people to make technology successful. Take all that you've learned and bring this great information back. Share it with your peers, your coworkers and your management teams. Share with the world, because together, we drive technology, and without people, our technology wouldn't exist.
Thank you to all of the people at VMworld who I've been able to connect with. I am humbled by being able to be among it, and to sit at the bloggers table among the people who I look up to as great community advocates and thought leaders. As a vExpert, I hope to share with you all. Look for lots of new info coming soon on the VMware technologies and much, much more!