The Turbonomic and Cisco teams have released our next Cisco Workload Optimization Manager platform with the most recent update to version 2.2, packed with much more cloudy goodness and also with the addition of new targets and more features in the cloud for both planning and real-time optimization.
One of my favorite parts of building out what I love to call the Cisco Stack is that the integration from the application (Cisco AppDynamics), down to the containers (Cisco Container Platform), into the virtualization layer (VMware, Hyper-V, OpenStack), and down to the metal (Cisco UCS, Cisco HyperFlex) including the network (Cisco Nexus, Cisco ACI, Cisco Tetration).
What's Inside CWOM 2.2?
Big updates in this one also include cloud pricing enhancements, custom pricing (any cloud), Azure CSP rate cards, and the ability to do future planning for reserved capacity purchases on AWS which is not available in any platform to-date.
The release aligns with Turbonomic version 6.3 for the feature set so you can get a quick view of what's inside the latest in my sizzle reel here: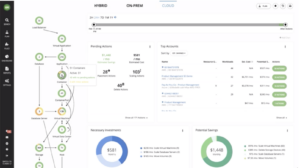 You can visit the main solution page here: https://www.cisco.com/c/en/us/products/servers-unified-computing/workload-optimization-manager/index.html
Full User Guide for CWOM 2.2 here: https://www.cisco.com/c/dam/en/us/td/docs/unified_computing/ucs/ucs-workload-optimization-mgr/user-guide/2-2/cisco-ucs-wom-user-guide-2-2.pdf
Download the latest edition here: https://software.cisco.com/download/home/286321574/type/286317011/release/2.2.0
Full list of Turbonomic and Cisco partner resources here: https://resources.turbonomic.com/cisco