Hybrid cloud up time. How's that for a great way to create a name, right? HYCU are doing something very cool and it was great to chat with them at Tech Field Day at Cloud Field Day 17. The team has a long history in the industry across a really diverse background, but they all come together with a very strong vision of what to do to solve a big problem.
Data is exploding…well the amount, and disparity of services hosting and managing data are. How are we able to understand where our data is and how it is being protected as more data-centric services become part of the IT portfolio for companies.
What Data is at Risk, and Why?
All of it. Seriously, all data is a risk for data loss, data modification, or even the big bad world of ransomware. SaaS providers are one of the most significant risks and attack vectors. Data ends up in proprietary systems and you expect (aka hope) that it's protected. Spoiler alert: it's not.
Data protection in SaaS and distributed systems needs to become a focus for you and your team. HYCU are tackling this by creating a deep bench of partner product integrations that take their data protection approach for "traditional" data into the world of SaaS and hybrid cloud.
Just think about how much you have in Dropbox, Box, Salesforce, Jira, Gitlab, and any of dozens of other SaaS products. The question will be, can HYCU solve the data protection problem for SaaS in a way that differentiates and
What's the HYCU Secret Sauce?
A core part of the HYCU platform story is wrapped around application awareness. This is a huge boost when it comes to doing any type of protection. Being application-aware means being able to do application-specific activities and to understand the data and operational patterns.
R-Cloud
This is a bold story described as the worlds first development platform for data protection. In order to furnish a massive ecosystem of integrations, you need to have an extensible, programmable platform. This is what R-Cloud aims to do as a low-code development platform based on the HYCU platform.
R-Cloud is made up of three specific capabilities and products that come together as the R-Cloud offering. These include R-Graph, R-Marketplace, and R-Score.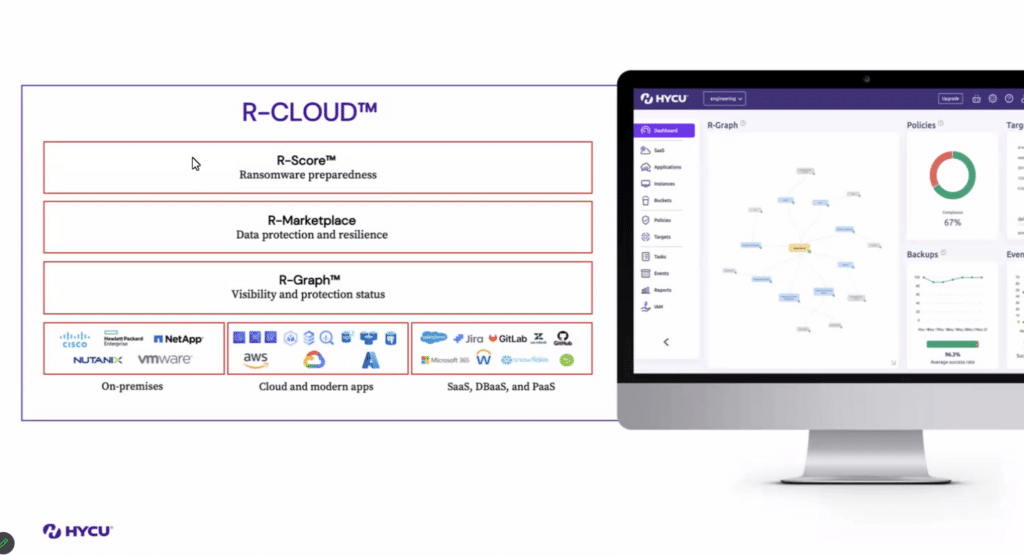 R-Graph
Visualize the data. You can't target what you can't see. R-Graph is a proprietary platform which ties into your systems to show you where your data is, whether it's protected, and what level of policy adherence you have.
The demo showed how using Okta and Azure AD and other authentication front ends as a way to discover where your services and data live. There are also ways to directly include data that is not necessarily authorized/authenticated by a centralized identity service.
R-Marketplace
I'm a huge fan of a marketplace approach. Getting your integration into the HYCU R-Marketplace is simple and follows an easy as 1-2-3 process:
Sign up
Build the service
Certify the process – this a two week process to make sure that
Publishers require certification to prove they are real, and have a safe implementation of the integration. It's a low-code platform which makes it easy for partners to get into the marketplace.
R-Score
This is where the third piece comes into play which is the R-Score platform. It's a resiliency measurement to evaluate and quantify your ability to recover in the event of an emergency. This can be scoring based on recoverability, level of protection, specific ransomware risk, and lots more.
It's About the Right Abstraction
Part of what HYCU really drives home as their value and differentiation is the choice to use the right level of abstraction. HYCU is focusing on policy and discovery as the biggest up front differentiators. There are many patents behind these methods as well.
Supporting disparate environments requires the management / protection platform to have an ideal abstraction to represent the policies and protection requirements while also reducing the customization and bespoke agents that are common in data protection tools.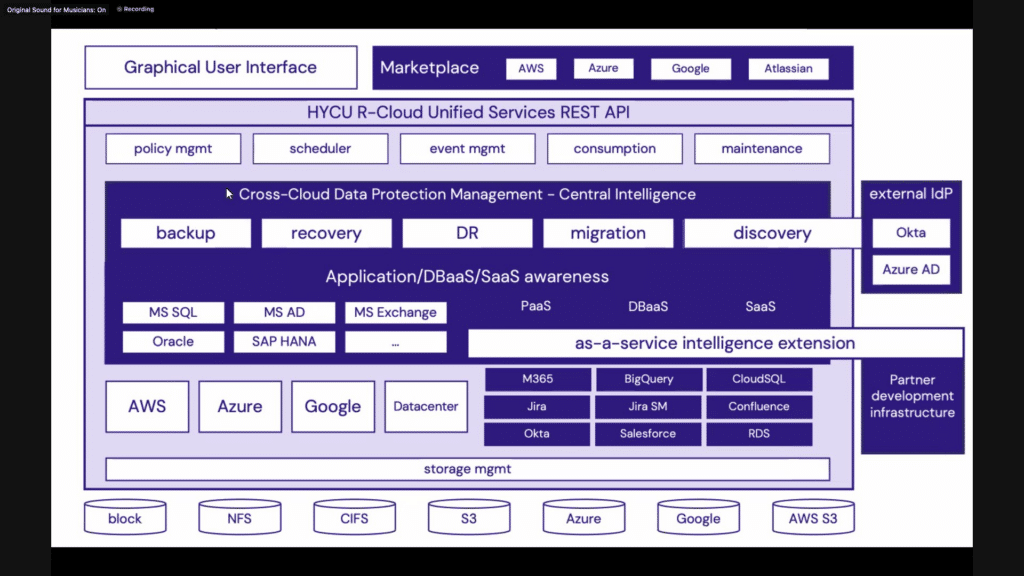 Being able to visualize your data is probably the most important beginning. Goran presented a really compelling description of the HYCU approach which I was excited to see. I'm a fan of using the optimal abstraction to tackle a problem. Being able to now present that abstracted view using a graph view (and ideally graph API) will likely be a compelling thing for many Ops folks.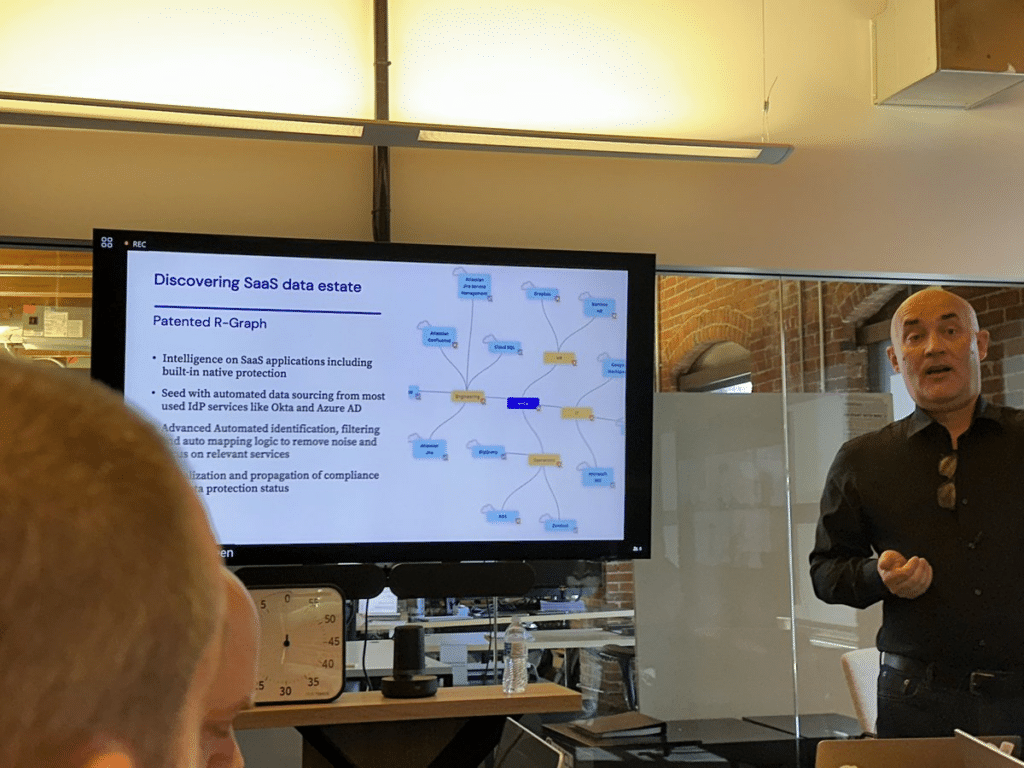 The next piece is separation of responsibility for platform. Making sure that
Some Demo Goodness of HYCU in Action
Jira was the first use case being described. Jira has 230K customers including 80% of the Fortune 500. Because Jira handles software lifecycle, and customer engagement / service centers, there is a pretty deep dependence on reducing data risk and service availability.
Reasons for protection include operational data loss, cyber events and outages, and also data compliance and sovereignty. This starts the demo they showed for Protege which is the HYCU data protection platform.
Jira recovery was able to be done at a granular level with dynamic views of the elements and objects that can be restored.
Also a reminder that it is actually about the restore, not the backup 🙂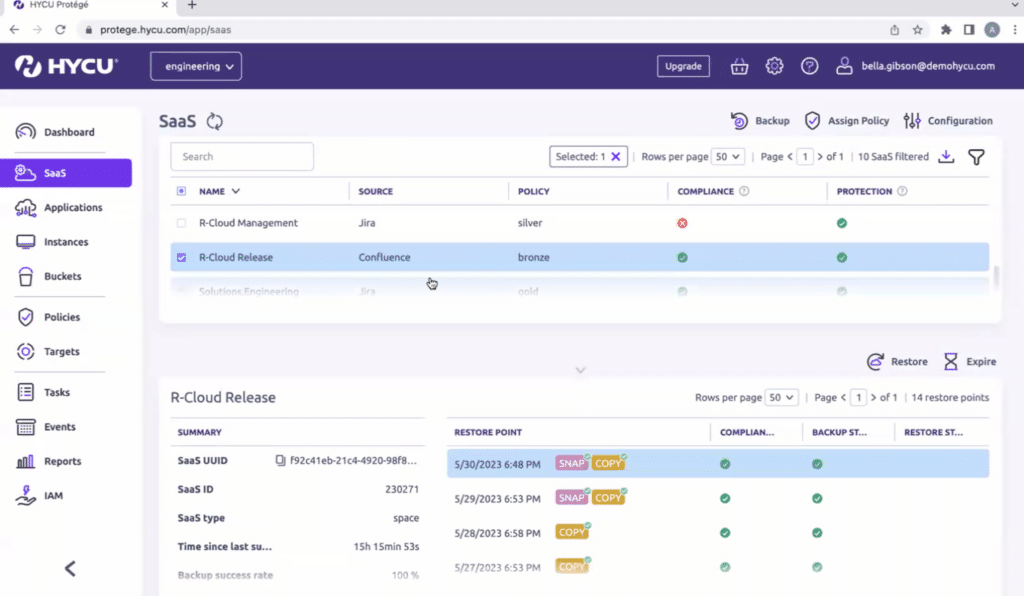 Google Cloud was the next up on the demo flow was the discussion and demo. SaaS is a huge opportunity but there are likely more opportunities to lift and transform data and services which is what the Google Cloud story is for HYCU.
Their Google Cloud integration include GCE, GCVE, GCS, GKE, CloudSQL, Big Query, and Google Workspace.
Developer workflows came up as an interesting real use-case. How about dev teams who are launching lots of cloud VMs and they need those to be protected but not have developers manage the protection? HYCU does continuous discovery with 5-10 minute discovery intervals.
You can assign a label or tag to the objects as they are provisioned and then HYCU policies will detect and apply the protection policies on the fly.
Some Thoughts on the HYCU Approach
What's interesting is that HYCU doesn't charge for professional services. This stood out to me as a strong stance to focus on making a product-led experience. Something that is not easy to do in a competitive world where products are fighting for in-app time while at the same time trying to be as invisible as possible.
The use of the partner-led marketplace integration is going to be a powerful way to solve the ecosystem problem, but can also be a challenge to drive partner adoption. The HYCU team has some great goals and has already landed 50 partners in the marketplace at the time of the presentation.
Thank you to the HYCU team for a great discussion and make sure you check out the presentation videos as they get published.
About HYCU
HYCU describes themselves as the first and only data protection provider that can scale to protect the world's tens of thousands of data sources.
HYCU website: https://hycu.com
HYCU on Crunchbase: https://www.crunchbase.com/organization/hycu
HYCU on Partnerbase: https://www.partnerbase.com/hycu
HYCU on Owler: https://www.owler.com/company/hycu
Disclosure
Travel and expenses for Tech Field Day – Cloud Field Day 17 were provided by the Tech Field Day organization, GestaltIT. No compensation was received for attending the event. All content provided in my posts is of my own opinion based on independent research and information gathered during the sessions.