Hybrid cloud is the new cloud. Well, hybrid cloud is the most likely cloud pattern for enterprise organizations. This is what makes Morpheus Data an especially interesting platform because they effectively led the charge to hybrid cloud management.
What do you do today for provisioning and managing resources when you have more than one cloud? You're likely running some VMware and some public cloud IaaS and other more aaS offerings like DBaaS, CaaS, or even deeper into application deployment within complex app hosting frameworks.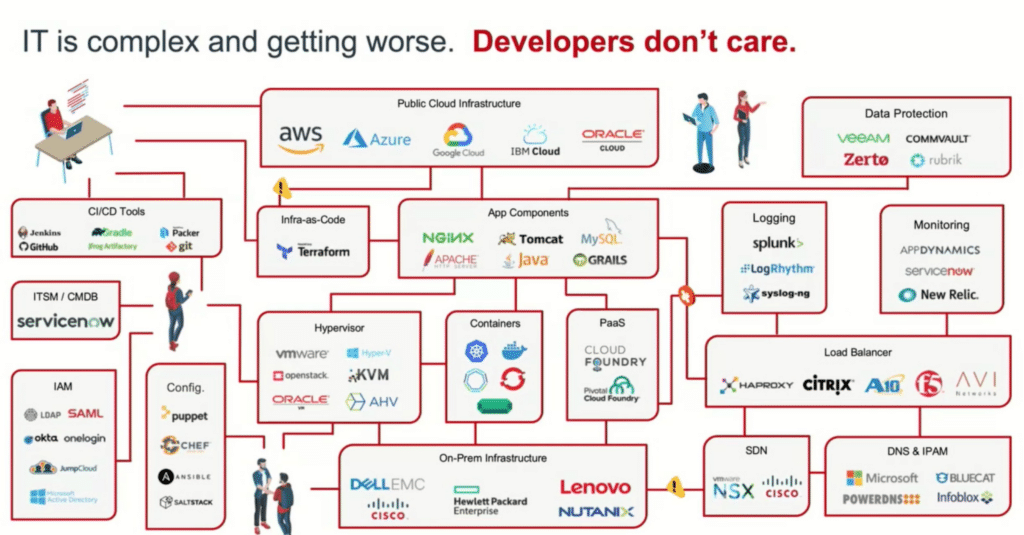 I've been in the VMware operations world for a long time and have been a fan of how Morpheus Data tackles the VMware orchestration challenge. One reason is that VMware has struggled themselves with orchestration and automation product adoption. The second reason is that many or most environments are embracing cloud and cloud-native
Who is Morpheus Data for?
Morpheus has aimed to enable developers to get resources when they need them with less complexity, less risk, and less friction. The challenge is that most Ops teams run the infrastructure and lack the ability to keep up with the needs of developers and application builders.
Ops teams also have many environments and operational patterns to deal with. You may be servicing developers for a classic client/server application and another team who only build microservices-based applications on containerized enviornments.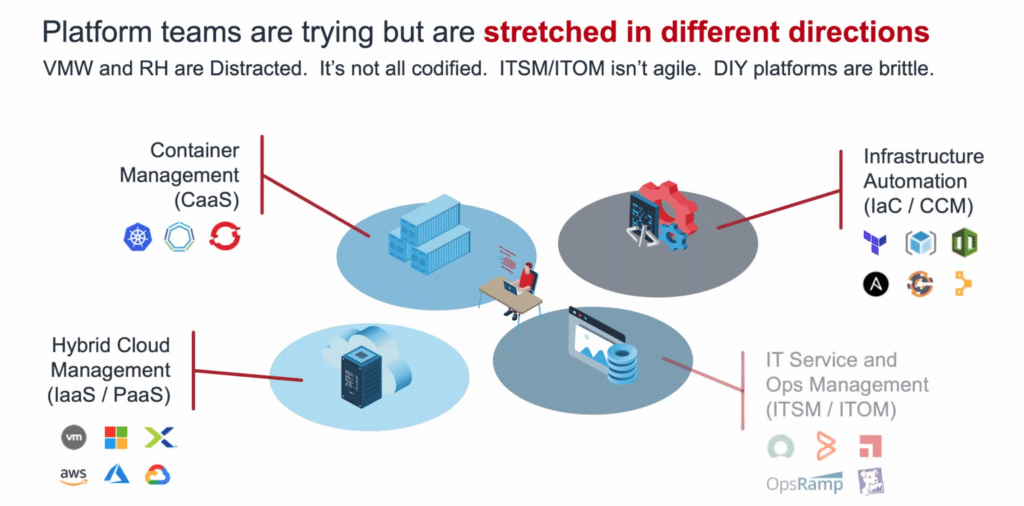 Both the developers and the operations teams are struggling with automating more because each of the platforms they build on and build for are very different. You can't do self-service for VMware VMs and use the same runbook to deploy a cloud VM.
Morpheus Data does a platform-engineering approach for enterprise customers without you needing to put all your efforts and building automation individually for each environment. They also tout the ability to do so without deep lock-in with the dependent vendor platforms.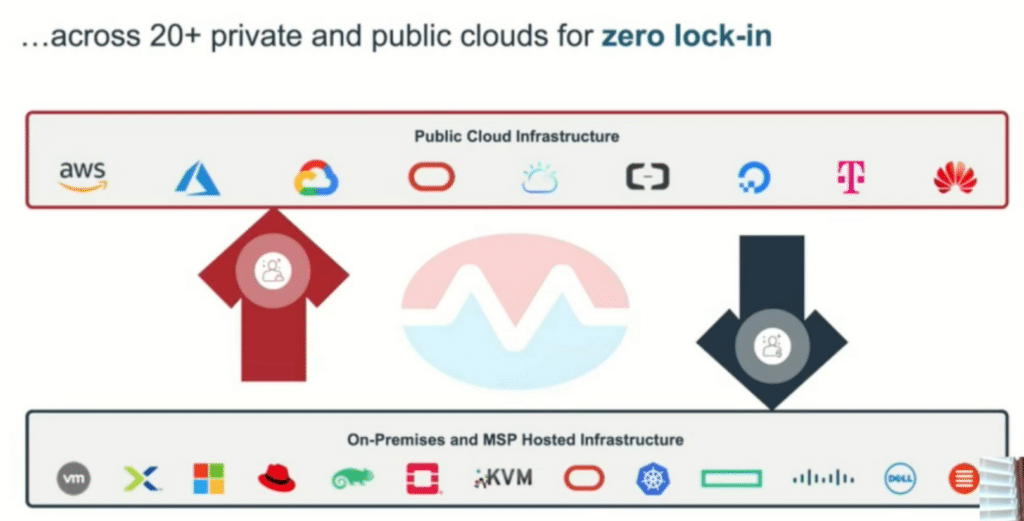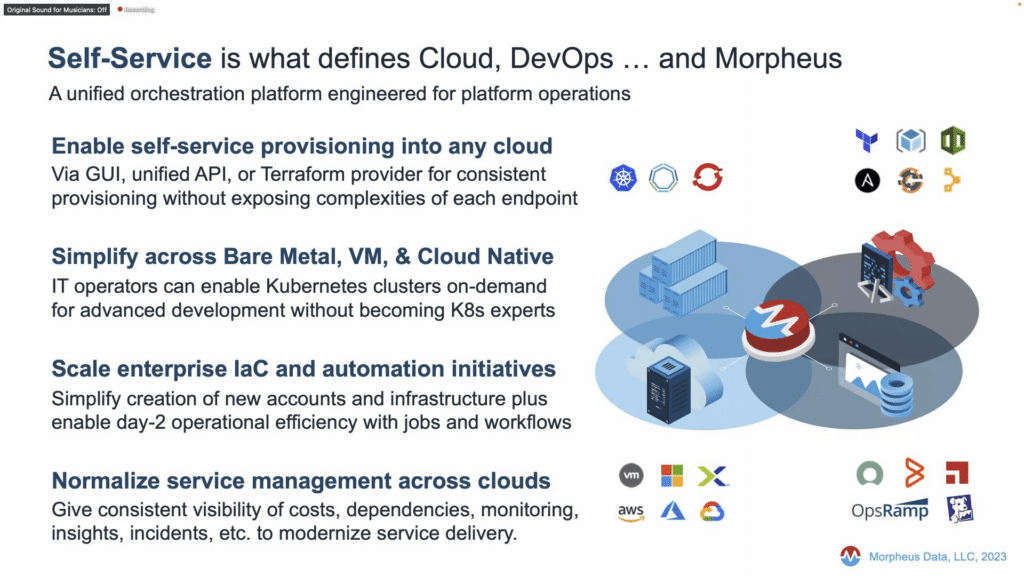 Now the fun is diving into some use-cases!
Use-Case – Enable Consistent Provisioning to Different Environments
You're using Terraform or Ansible, or maybe some native tooling like VMware vRealize Automation (vRA) or CloudFormation. The goal is to deliver self-service.
This is where the demo gets fun fast! The menu flow to describe the desired workload is very intuitive and also ends with lots of options for lifecycle, policies, and more options that will be attached to the workload.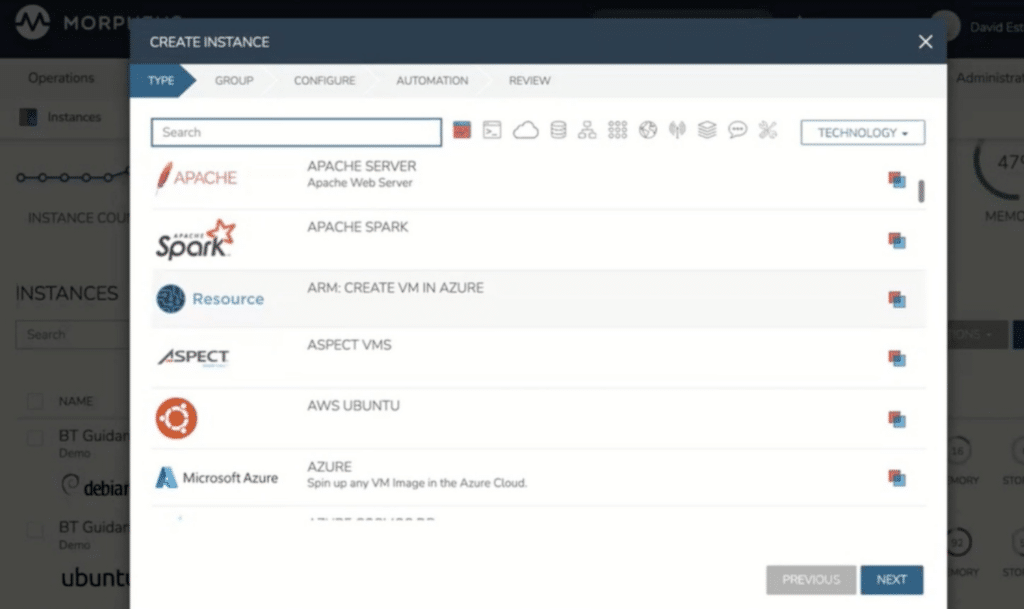 Provisioning with the ability to pull in state management from various integrations (e.g. Terraform) by becoming a state store and also doing drift detection to the adjacent platform.
There are nifty features around health checks, tier dependency tracking, and also managing health of the deployment with things like roll backs and roll forward attempts.
Lots of options to cover and we had a ton of questions that all go covered very well by the team. The usability is really positive in my opinion. The question will always be how deeply you choose to go with creating and configuring applications. It's easy to get stuck thinking about a self-service cloud management platform but get stuck on where to begin.
Luckily the platform has many baked in templates and a pretty wide adoption that lets you tap the community for ideas and templates to build for yourself.
Use-Case Demo – Using the Morpheus Plugins
Plugins are a great feature because there are many out of the box plugin integrations and potential to have new ones built. The advantage of using a plugin framework gives you an extensible and loosely coupled way to pull 3rd party products into Morpheus Data.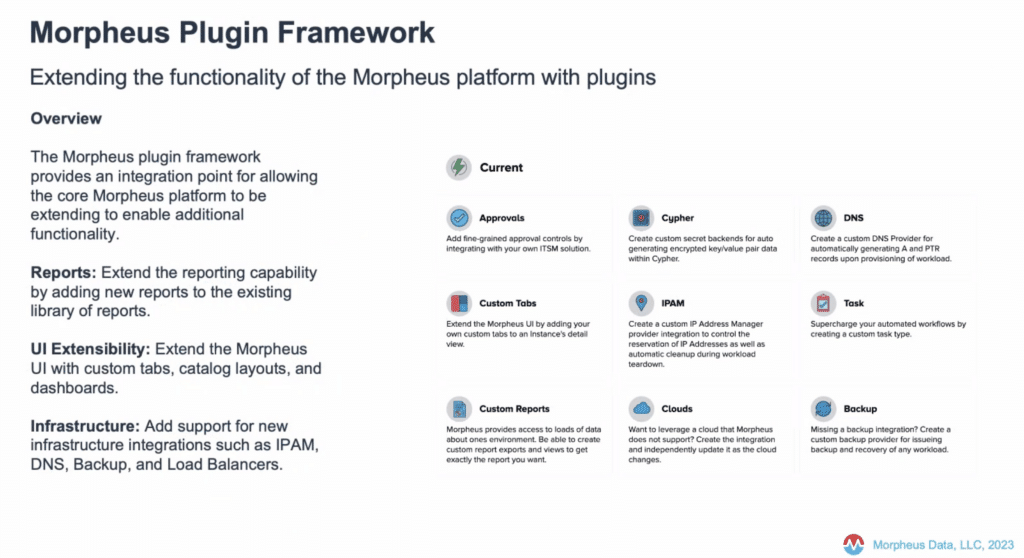 You can get a view of the existing set of core plugins right at the Morpheus Exchange which is their plugin marketplace.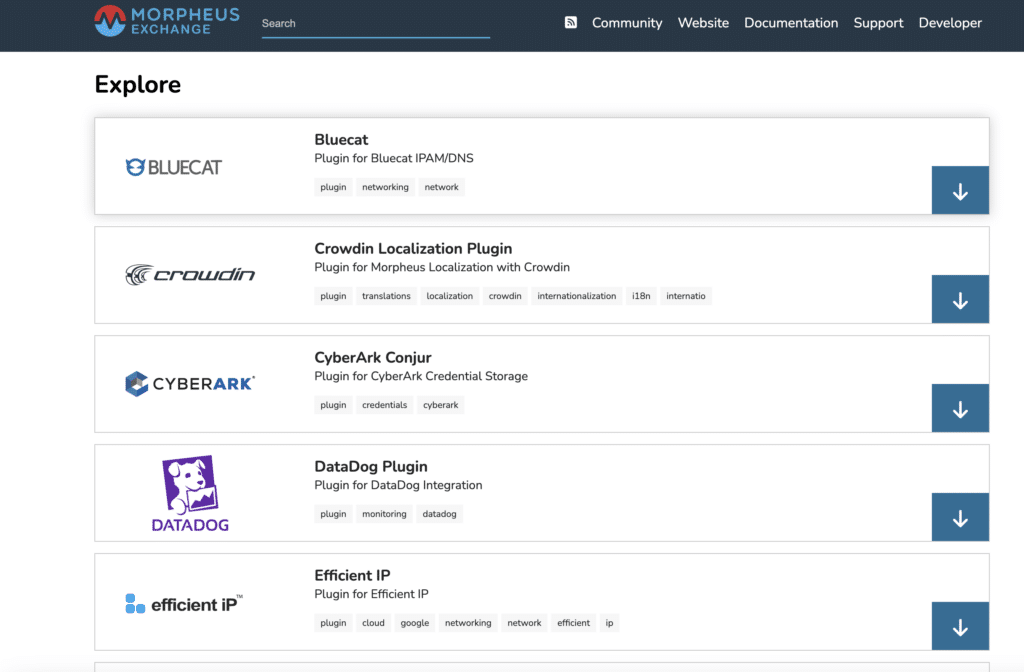 Day 2 Operations Views and Processes
Very cool to see that Morpheus Data also does integration of monitoring tools. This lets you add some health information to really dive into how the application is behaving.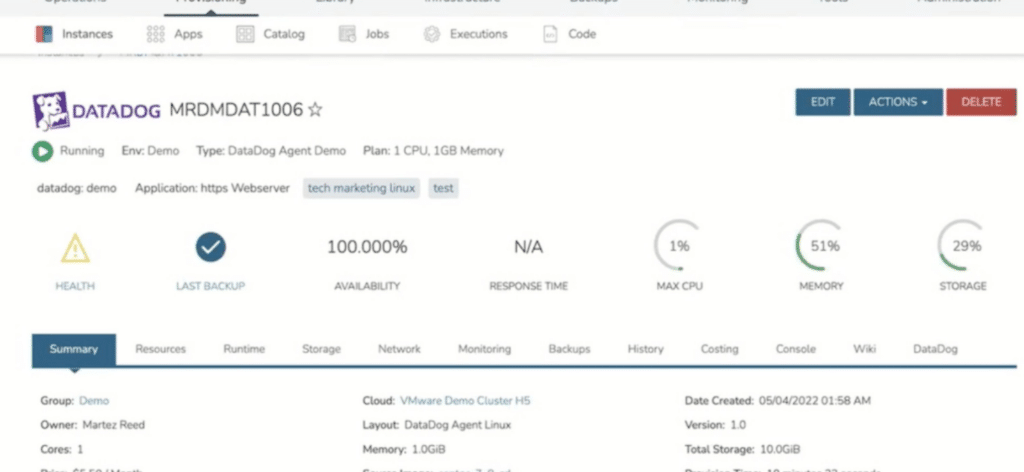 The next major advantage is the operational simplicity. I'm excited to see that focus in the demo landed a lot on:
Get right to running without super complex to build and operate workflows
Lots of ways to consume the data in other platforms (e.g. ServiceNow)
Consume and control MorpheusData using UI, code, or ITSM easily
Include cost visibility and controls for public cloud resources
There's lots to see and you can also get the Community Edition as well to kick the tires on it.
Thoughts about the Morpheus Data Approach
I've long been a fan of how Morpheus Data describes the challenge. Being a "manager of managers" is something that has to have a reason to exist. Morpheus Data focused on lifecycle and has created an ideal abstraction layer for integration with existing and future tools and processes.
Day 1 provisioning and Day 2 operations are different beasts. Morpheus Data took the bold and proven approach to be thinking and executing Day 2 consistency, compliance, and value. It's taken a while for the market to catch up.
I was also excited by their choice to use HCL (Hashicorp Configuration Language) as a config language for describing applications and infrastructure. HCL is widely used by people using Terraform so it makes sense to tap that as a likely familiar language for that persona. If you're using Terraform then you've already understood the value of automation.
About Morpheus Data
Morpheus Data is an exciting platform aiming to help you manage hybrid clouds and modernize applications. This is also done while being able to reduce cloud cost 30%, provision 150x faster, close security holes, and deploy hybrid-cloud automation in record time.
Morpheus Data website: https://morpheusdata.com
Morpheus Data on Crunchbase: https://www.crunchbase.com/organization/morpheus
Morpheus Data on Partnerbase: https://www.partnerbase.com/morpheus-data
Morpheus Data on Owler: https://www.owler.com/company/morpheusdata
Disclosure
Travel and expenses for Tech Field Day – Cloud Field Day 17 were provided by the Tech Field Day organization, GestaltIT. No compensation was received for attending the event. All content provided in my posts is of my own opinion based on independent research and information gathered during the sessions.