The overall theme of the day will be all about that app! The industry has been leaning towards application centricity and finding the optimal way to build, deploy, and operate applications. VMware began a massive shift in the hosting application infrastructure.
After many changes in how applications are built and operated, this is a great set of sessions to hit the high level on why we are still struggling with cloud and cloud-native adoption.
Tanzu Intelligence Services
Business goals are always the first thing to review to give context. You probably have anywhere from dozens to hundreds of applications you run. Organizations need to build more data-driven applications to grow the business, while also trying to reduce costs and risk.
Public cloud and cloud-native application patterns changed a lot.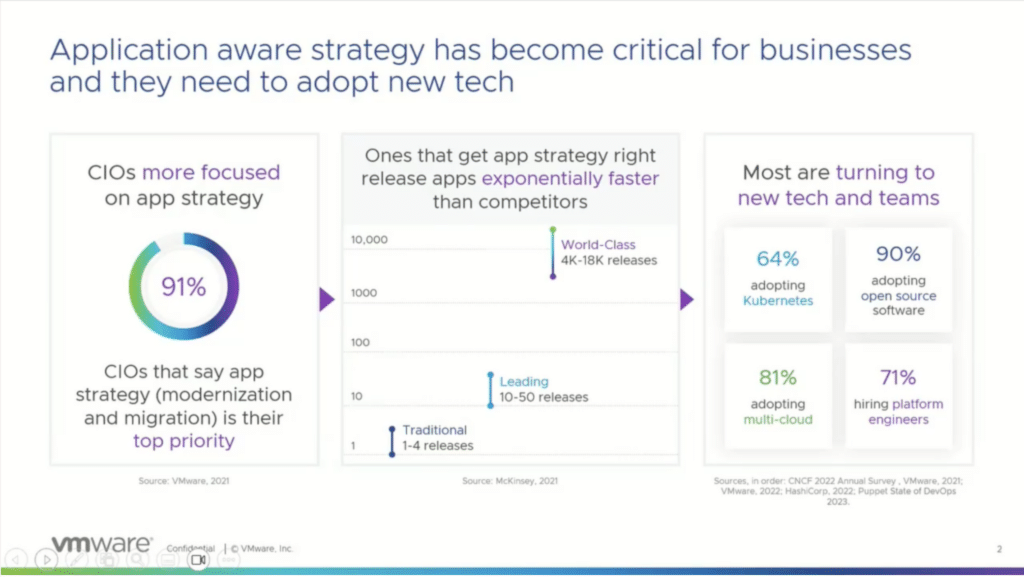 The concept of creating the ideal, or "golden paths" pipeline for applications is a logical construct. Can we create practices that help to create three core practices:
Develop – Golden paths to production capture app knowledge and practices
Operate – Deploy, manage, and scale apps seamlessly even as underlying infrastructure is update
Optimize – Continuously tune cost, performance, and security of apps at runtime
The first part of the session jumped right into the Tanzu Intelligence set of tools.
Tanzu Transformer – data-driven cloud migration planning
Tanzu Guardrails – security posture management governance and policy enforcement
Tanzu Insights – infra and app observability, AIOps for K8s, Clouds
Tanzu CloudHealth – Cost allocation and chargeback, budget management and forecasting, rate and usage optimization

Tanzu Transformer
Application operations are still Day 2. Before that arrives we have to migration
Cloud First – prefer public cloud options
Cloud Chaos – migrating, but likely with difficulty and much slower than anticipated
Cloud Smart – let the right hosting option match the app
The optimal outcome is to modernize your applications to be more portable and designed to handle more hosting targets using a common deployment patterns.
It always begins with knowing where to begin. Application discovery is part of the Tanzu Transformer. What is interesting here is the inclusion of discovery and analysis tools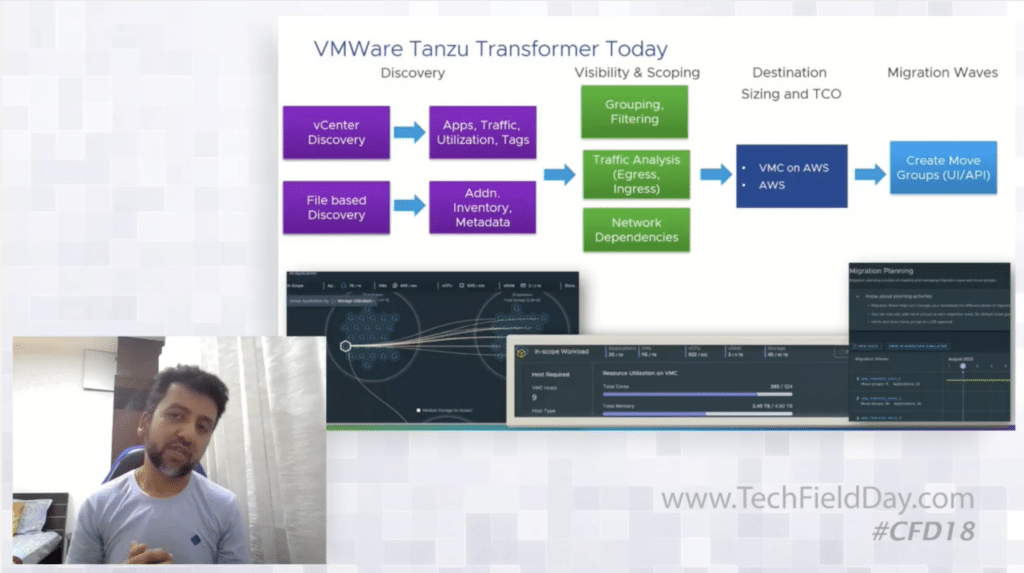 You can capture information from network flows and application traffic to help define the dependencies and traffic requirements. VMware runs a virtual collector appliance which then pulls inventory from vCenter.
There's an option to also do an import from vCenter and you can also import a static list. This will be the inventory you use to run the assessments.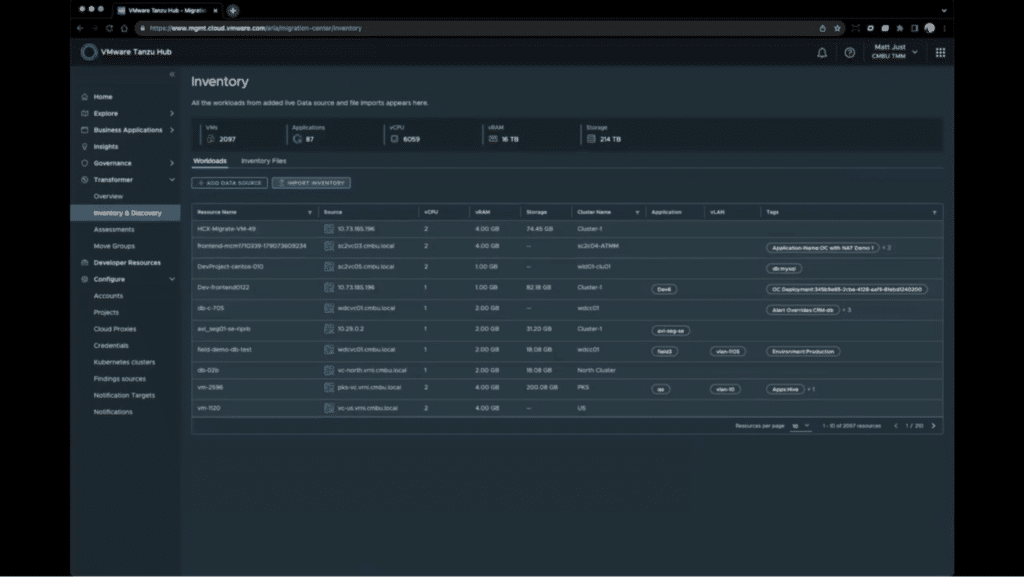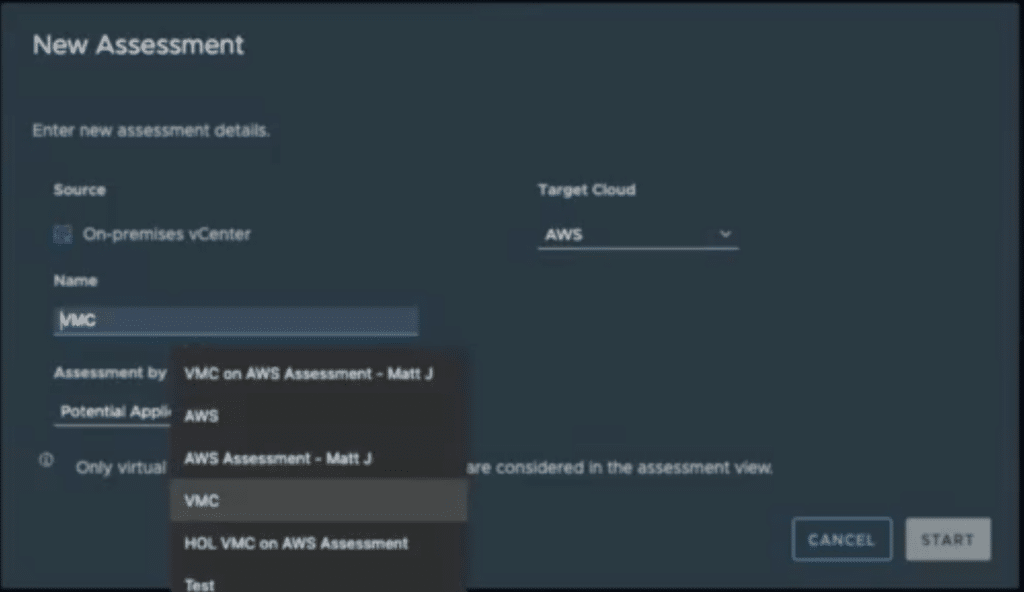 Using the visual editor is a nifty way to see the overall envioronment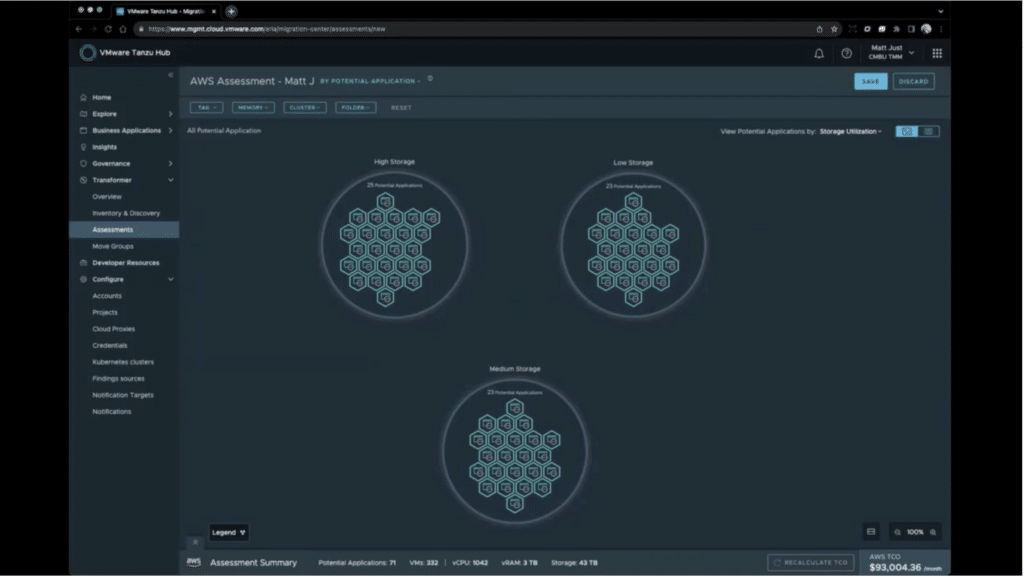 You can choose the tabular view as well which may be more helpful for sorting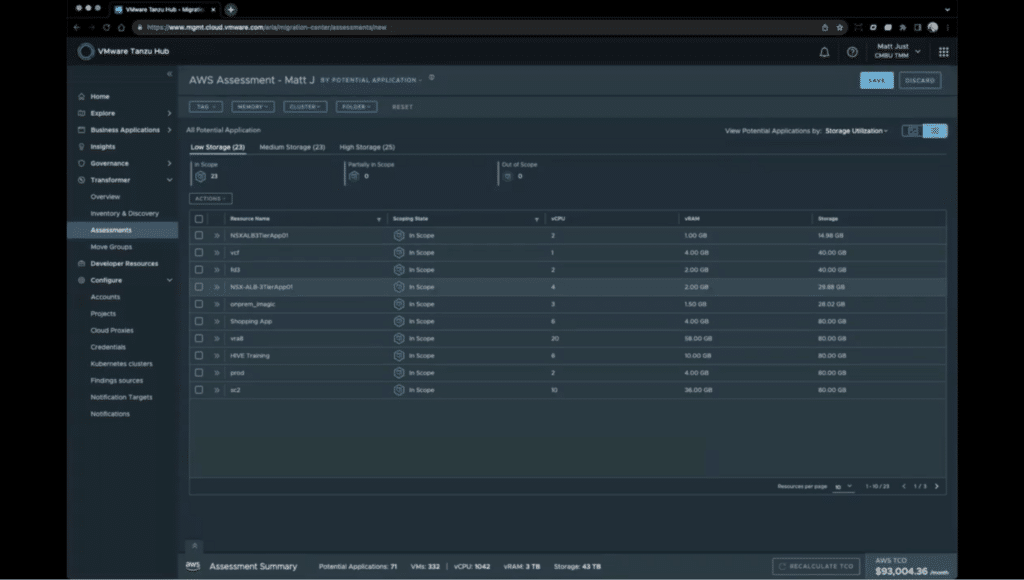 Now that you begin to pick your VM and the Tanzu Transformer will illustrate dependency discovery based on operational analytics and network flows.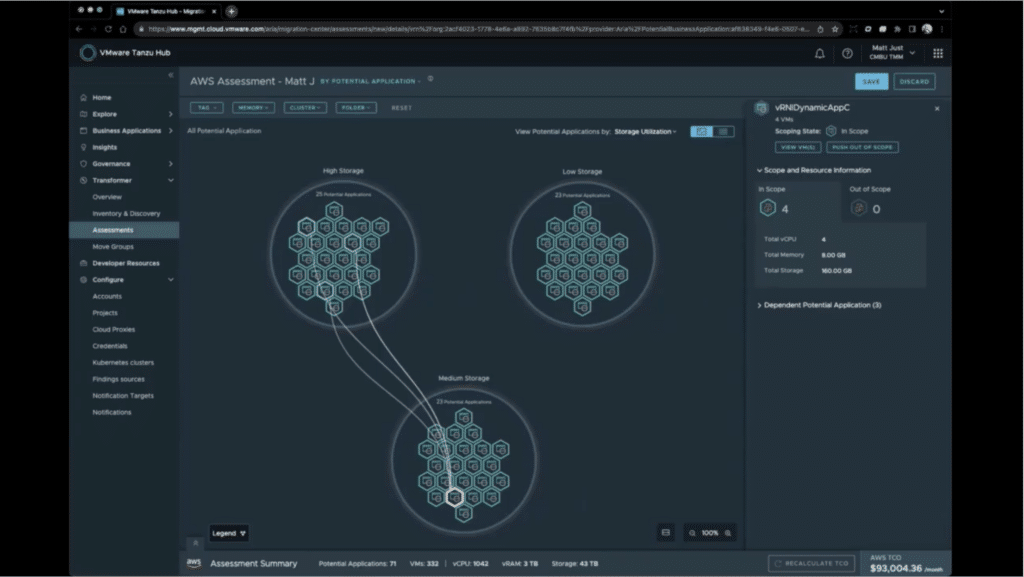 Despite what many would say, all applications are not ready for the cloud. Having a fully-featured application discovery tool is necessary to make sure you make the right data-driven decision for where to port that application.
Your data is secured and only metadata is sent for assessment.
Tanzu Hub – Discovery and Visualization
This is the SaaS platform which runs all the Tanzu services. The goal is to have a unified place to get all your performance, cost, and risk insights.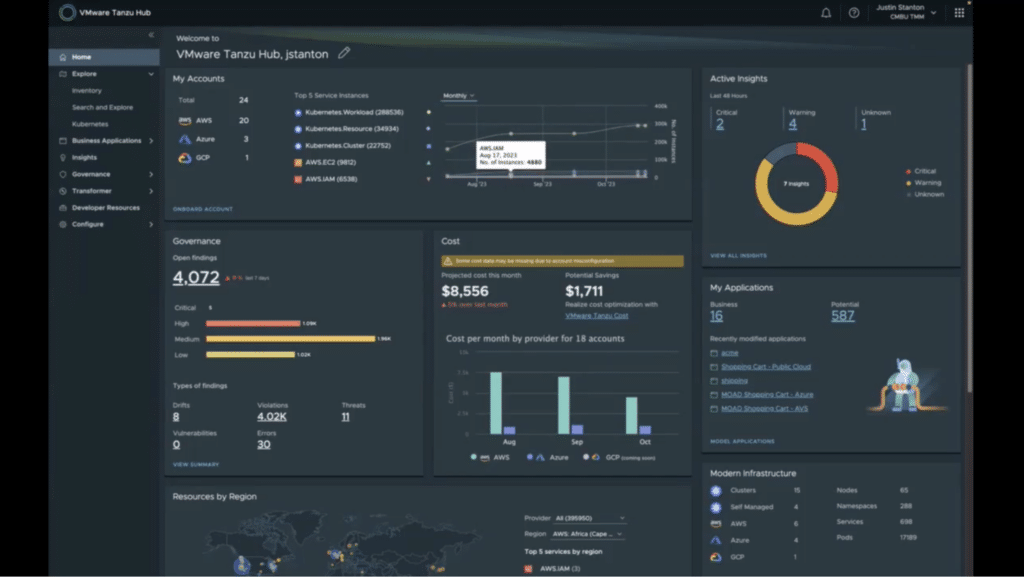 This is the rebranded Aria Hub now being renamed and enhanced with lots of roadmap features taht are coming. You can even try it out for free!!
The access to all of your Tanzu resources from one common experience is handy. I would love to find out where the most time is being spent by teams today so we can get a sense of which are the more popular views of an environment.
Tanzu Guardrails – Governance and Risk Management
Governance is the word we all dread but also know we require. Governance, compliance, security, and business risk mitigation are top of mind for every company. The only question is how much detail and attention they require.
VMware has collected their assessment, compliance, governance, and cost policies into the Tanzu Guardrails tool. There are a plethora of tools out there tackling different parts of the problem. VMware is aiming to consolidate functions and create a common experience.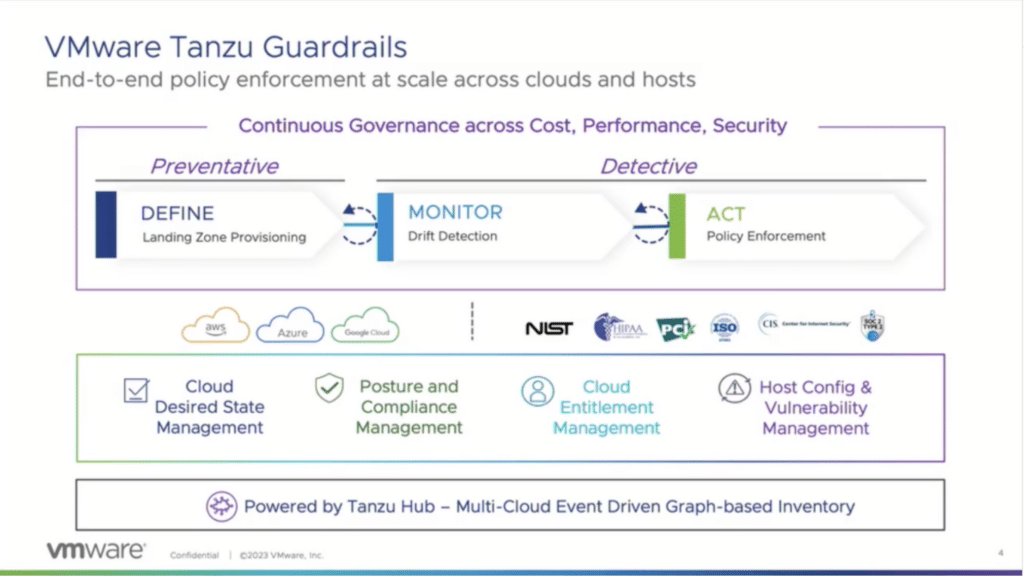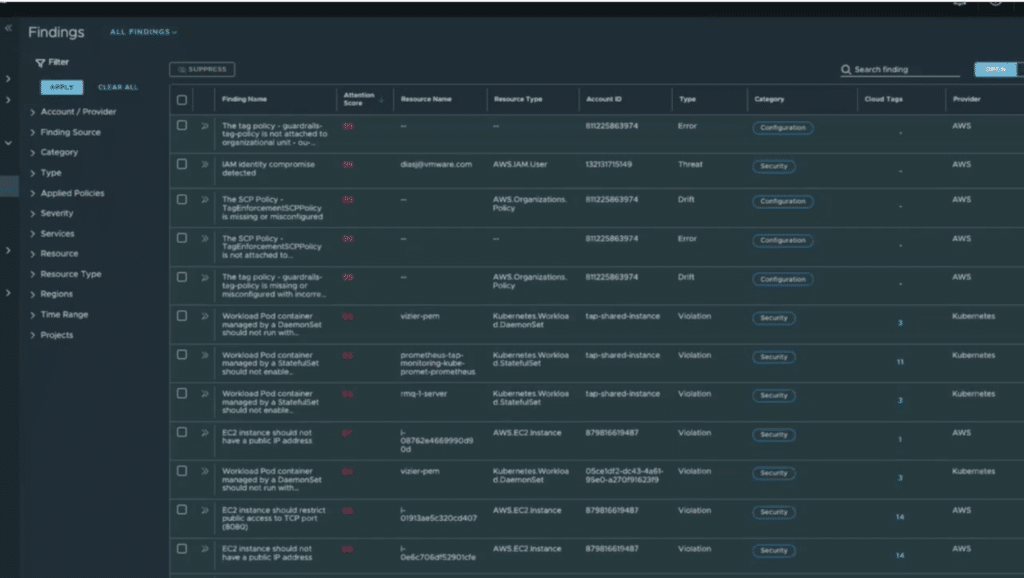 Having a centralized operations hub is super helpful. All of the content is accessible via the API and can also have webhooks added for some interaction with other products. I was suprised they did not have a pub-sub option but that may show up in future. It would be great to be able to
Policy management looks like it has evolved and they also have the ability to enact policies on external systems like AWS IAM and others.
Tanzu Insights – AI/ML Insights for Contextual Troubleshooting
This is where we move to the optimize portion of Tanzu product set. Insights is the evolution of a few products within the VMware ecosystem.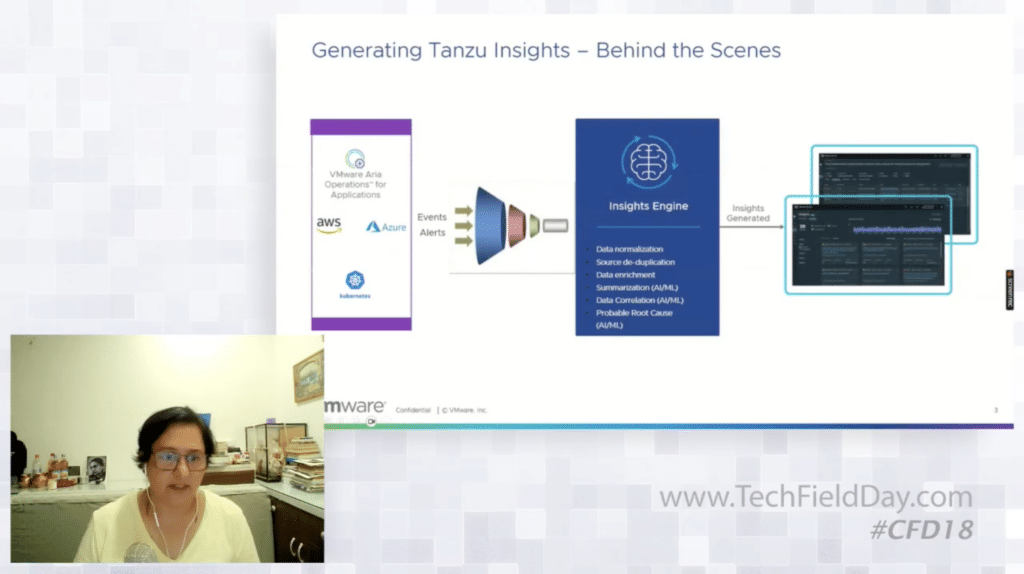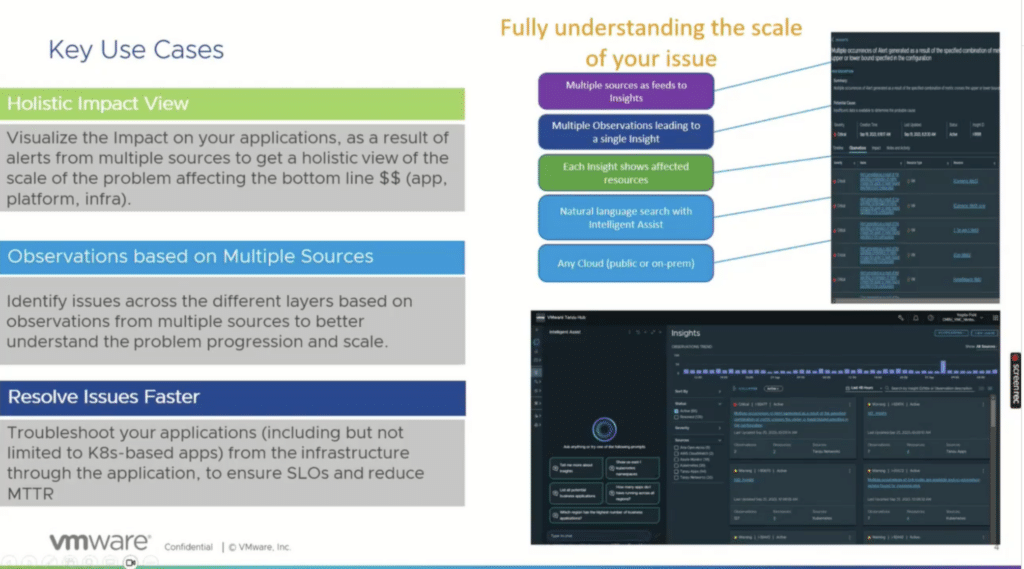 The focus of the presentation shifted to pre-demo discovery of why Insights is helpful. Getting more visibility into complex, modernized applications is a particular challenge.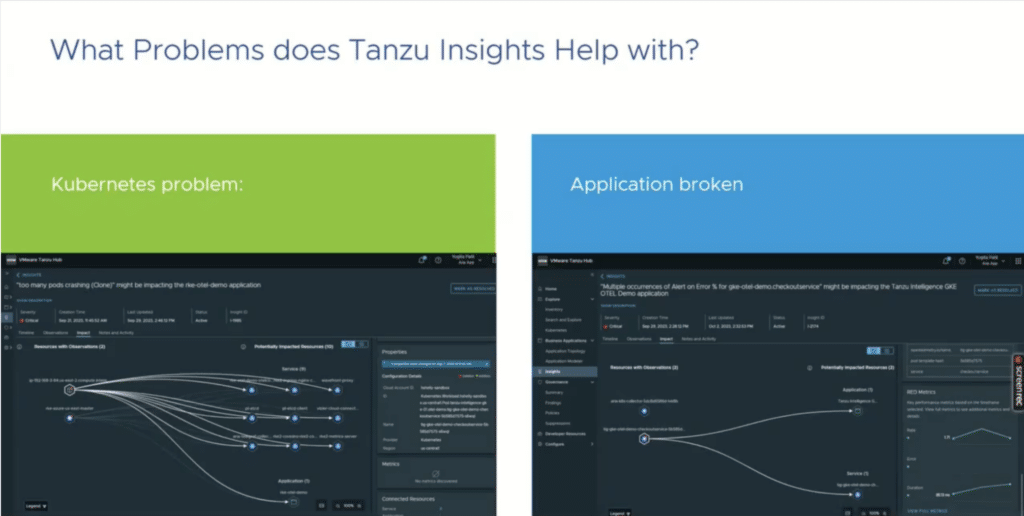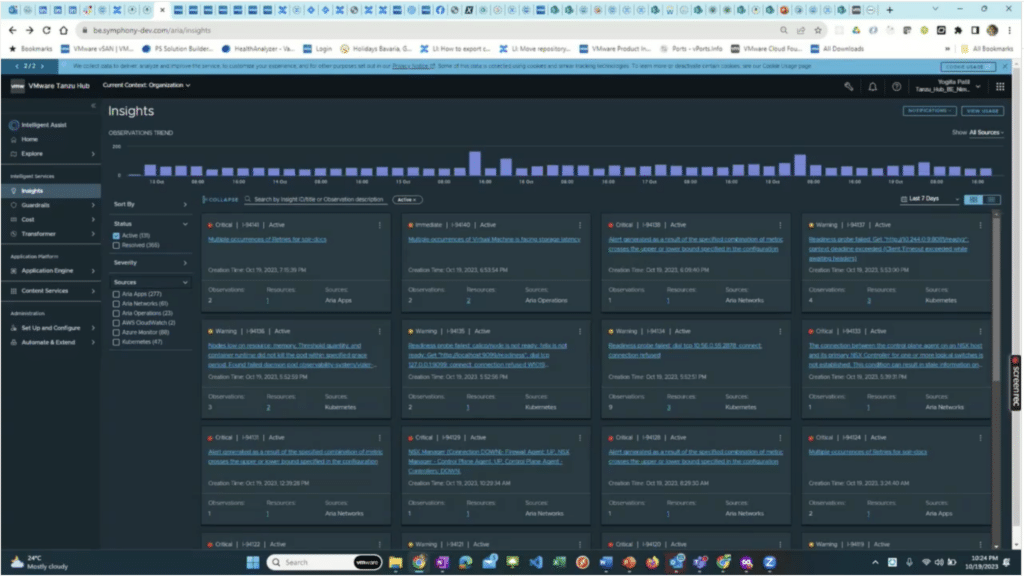 Lots of nifty views to navigate based on different context for resources and I'm a fan of including visualization for dependencies and risks.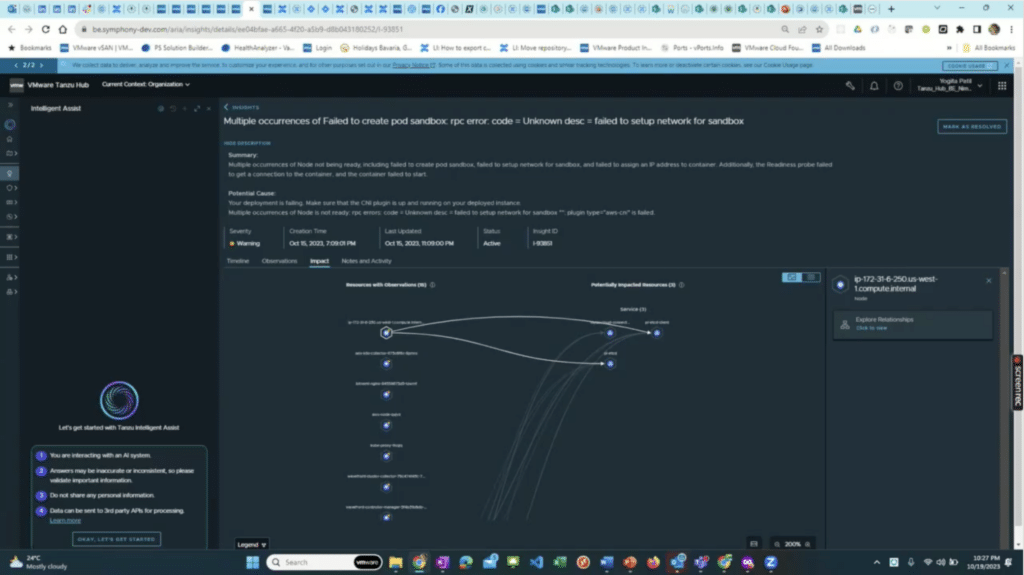 We got a little view of what is likely a big development area which is the Tanzu Intelligent Assist. There are no shortage of ways that AI is becoming helpful. Having a model trained on your operations is super cool.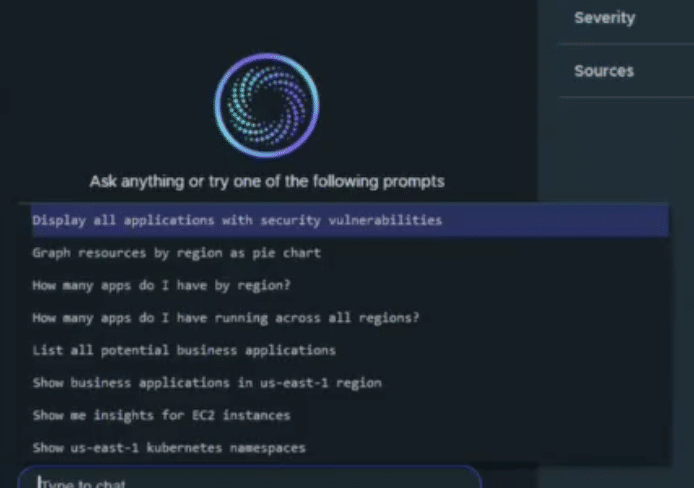 I was very pleased to hear that the summarization and some of the UI views are already using generative AI. Very cool!
We had to move to the closing section of the presentation. Visualizing costs in the cloud is a challenge that birthed an entire ecosystem of products and companies.
Step 1 is visualizing the overall spend and then you can drill down into some of the details.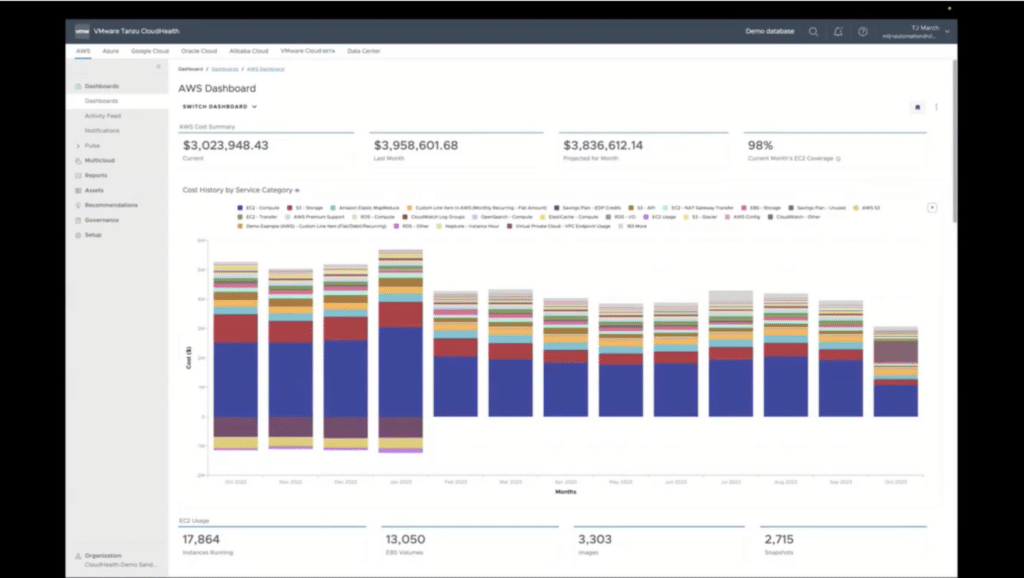 Step 2 would be adopting changes like using reserved capacity, rightsizing. There are lots of ways to interact with the recommendations and suggestions the product produces for scaling to optimize costs and utilization. I was happy to see the flexibility of how you can group and report on he data.
Seeing some of the Kubernetes awareness is helpful also. There are imports of current limits, allocations, and utilization which can help to be brought over to compare with node and cluster sizing options that may help to reduce costs.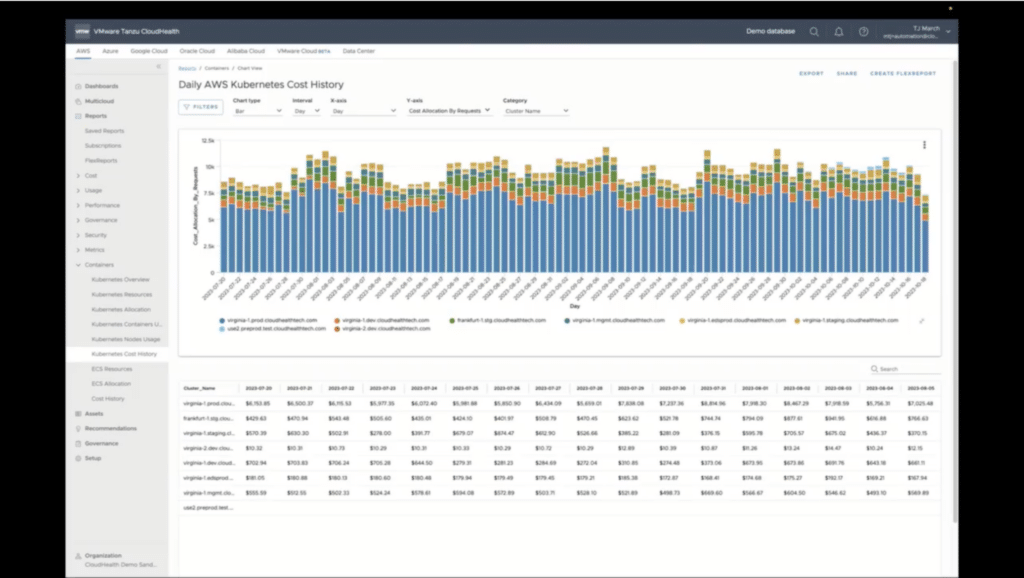 Watch the Full Session!
Luckily, you can watch the entire presentation on-demand from Tech Field Day on LinkedIn.
My Thoughts on VMware
I've been a long-time VMware fan and have been blessed being a part of the very vibrant vExpert community. Over the years I have enjoyed seeing VMware take strides in new and challenging directions.
The overall portfolio is exciting and I am keenly following how VMware continues to navigate a broad market. I see the focus on migration, operation, and optimization as the ideal way to approach things. The products and tooling in the VMware solution are coming together nicely for a common experience which is great to see.
Big thanks to all of the presenters for the information sessions. It's a lot to take in as we look at what the potential is for what's next.
Make sure you check out VMware and try out the free edition of the Tanzu Hub too!
DISCLOSURE: My travel expenses were covered by Tech Field Day (GestaltIT) for the event. All analysis and content is my opinion from the presentation, discussion, and independent research.