AMD has been doing a lot of exciting innovation. Cloud native and cloud applications may not seem like the first thing you think of with a long-time silicon chip leader. The truth is that AMD has been cloud-centric for far longer than many realize.
AMD and the public cloud have been a great pairing. Lots of innovation lately has been focused on EPYC processors and the effects on cloud performance.
It Begins and Ends with the Application Workload
Robert Hormuth is a great technologist and strategist. I've been lucky enough to see Robert present on platform innovation at AMD.
What I was especially please by was beginning with the most important part of the story: the application.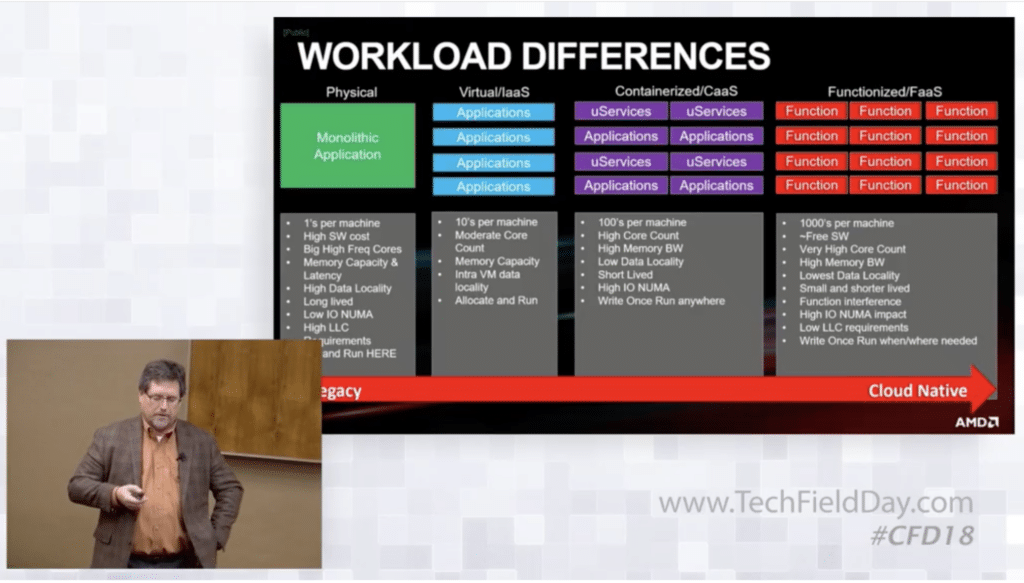 Dom0 – Where Privilege Begins
The concept of Dom0 was that the majority of the control point is at Dom0 which is started with the hypervisor. Dom0 virtualizes access to services and resources. A "smart" NIC or is meant to provide virtualized services to the host. It could be NVMe, NVMeOF, DRAM, or other connectivity and the accelerator cards are purpose-built to solve some challenging scale issues.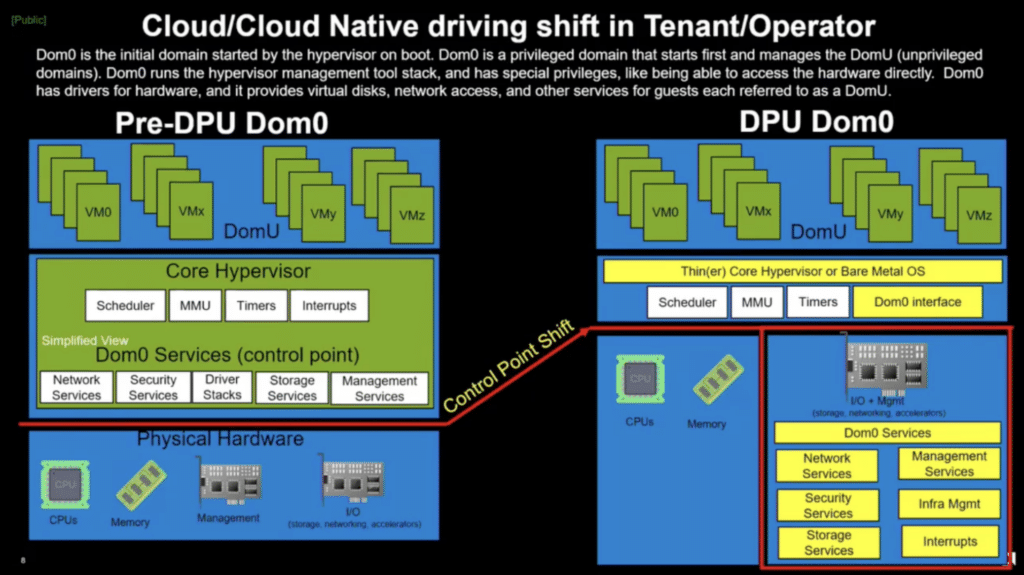 A DPU as the advantage of being able to get more CPU cycles by offloading resources. That leads to more determinism and performance-centric options so customers can move towards more services like FaaS and microservices.
You didn't need a DPU to do this, but you do to do it with high-performance and optimal efficiency. When it comes to the cloud, that translates to real dollar cost optimization as well! Current users of functions will likely know the pain and costs of cold starts, unexpected long running functions, and other idiosyncrasies of the FaaS services.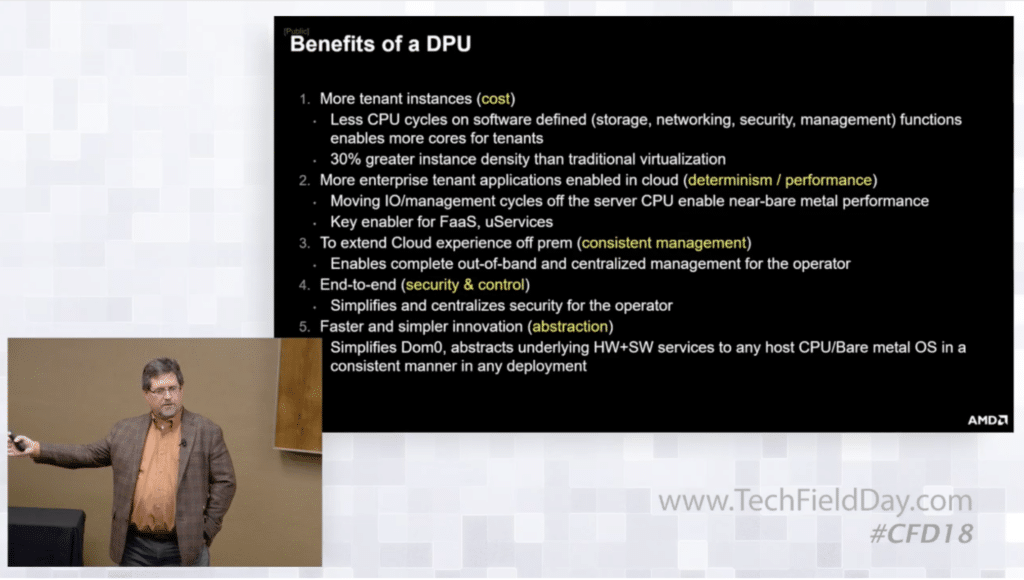 Abstraction is also key. By abstracting the underlying hardware you reduce the hard dependencies and tight coupling that is a risk to build on. That said, the abstraction also introduces some risks to performance because abstraction inherently adds latency.
Chiplets FTW!
Extending Moore's Law is something that you hear a lot about from AMD. It's an economic law more than a technology challenge. How can we innovate technology WHILE maintaining a value/profit curve that satisfies both the manufacturer and the consumer.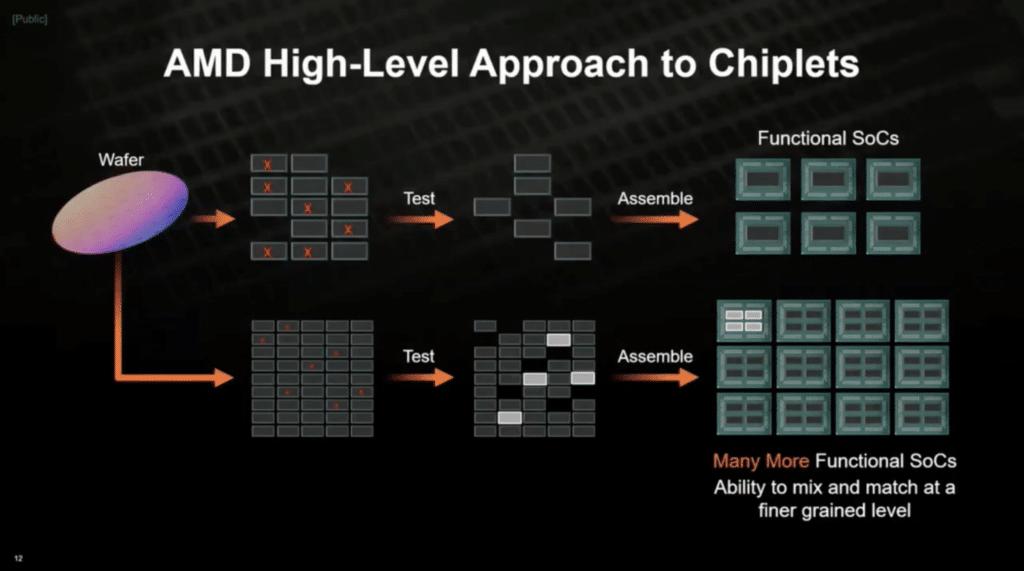 Innovating for peak performance on varying workloads is a terrifying challenge. I know, I've been in systems optimization for a couple of decades 😁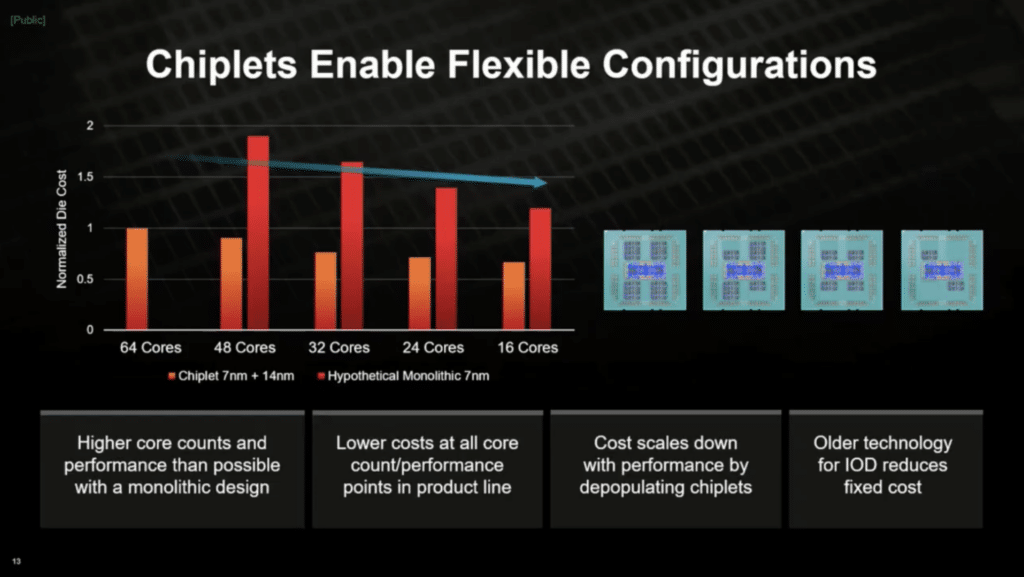 By approaching the problem using chiplets to give purpose-built specialization in a smaller form factor, AMD is aiming to create a composable architecture that adapts to the workload requirements.
Architected for Optimization
AMD designed the chiplet architecture to make a more pluggable way to deliver more capabilities and also manages to deliver lower power demand for the same level of performance.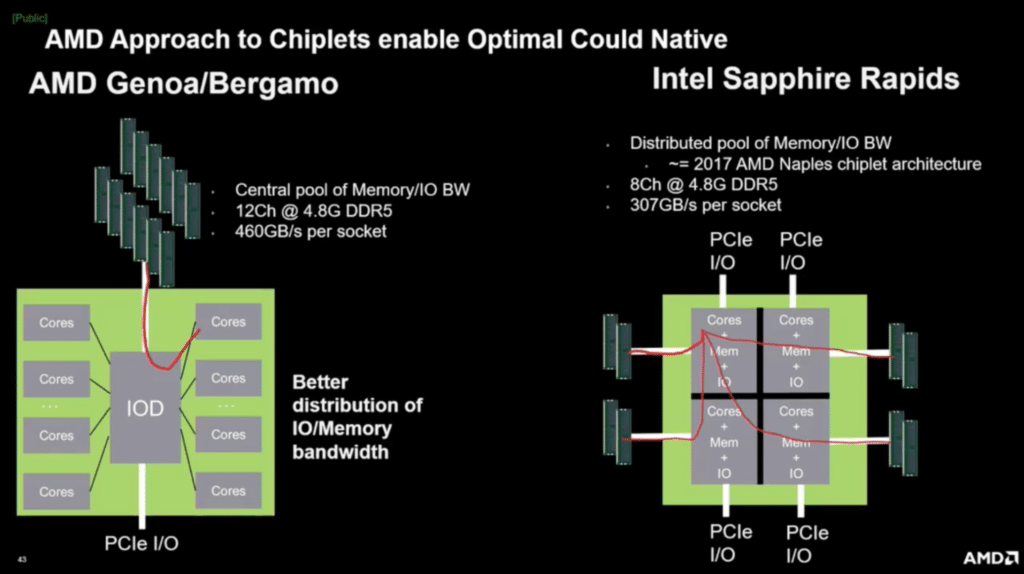 They can deliver the same bandwidth as competitive hardware because of optimizations such as the central pool of memory. Among some advantages, the theoretical and tested bandwidth in competitive offerings shows that AMD is hitting benchmarks that have proven their promises of performance.
When adding AMX to the CPU, you are adding a bandwidth eater into the system. Accelerators may be able to add some optimization for particular workload patterns. What was interesting was seeing how AMD has compared in a Noisy Neighbor test.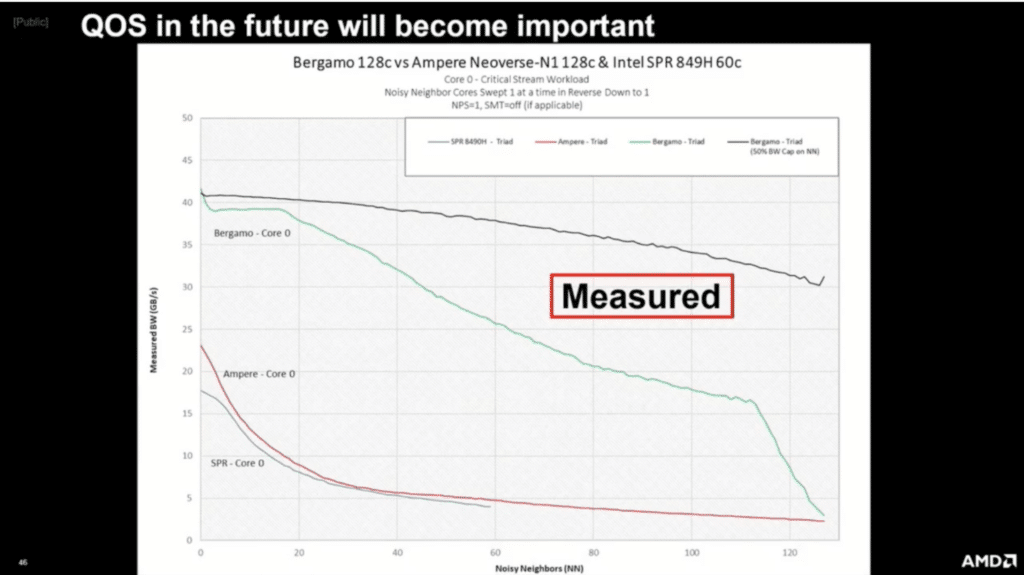 The measured result of using optimizations proved out in reality to keep bandwidth available despite the increased load.
My Thoughts on AMD at Cloud Field Day
Great work, as always, by Robert on the presentation.
There is an amazing amount of change coming in the world of CPU, GPU, DPU, and how these resources are interconnected. I am excited by seeing CXL become the path towards more composable architectures. I anticipate AMD will soon be sharing more performance innovations and improvements at both the chip level and at the system level.
Make sure to check out the AMD presentations from today and the past at the Tech Field Day website.
Check out AMD at their main site:
DISCLOSURE: My travel expenses were covered by Tech Field Day (GestaltIT) for the event. All analysis and content is my opinion from the presentation, discussion, and independent research.