It's great to see follow up sessions with a presenting vendor. Prosimo presented at Cloud Field Day 12 and where I was first introduced to them at early Cloud Field Day events.
Applications and resources in one or more clouds, you have networking challenges. It's just a matter of what type of problems.
"I got 99 problems, but secure multi-cloud networking cloud ain't one" – Jay Z after using Prosimo
About Prosimo
Prosimo brings network and cloud together. They provide a platform that facilitates multi-cloud and multi-platform interconnectivity. The legacy/traditional networking model is fundamentally flawed when you reach a certain scale. That scale can include both volume of data and latency.
The Prosimo platform is aiming to hit four key elements:
Discover: Helps users identify cloud networks and resources.
Build: Aids in establishing connectivity.
Secure: Ensures cloud resources are protected.
Observe: Allows users to monitor and troubleshoot their cloud networks.
Watching the presentation proved that they are firing on all cylinders. It's about much more than just policy and connectivity as well.
What is the Cost of Cloud Networking?
Data networking lifecycle operations are an intangible cost. Data movement and egress traffic charges are the very real tangible dollar costs. Add in the intangible cost and risks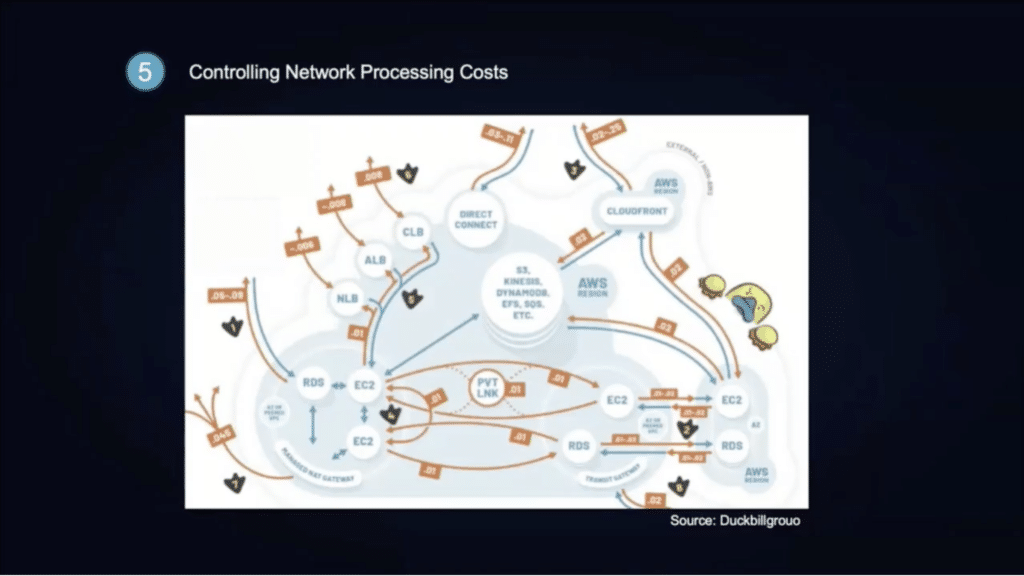 Use-Case Questions
It's ideal to begin with knowing the questions that are being asked by real users in real environments. I can confirm I hear all of these questions quite regularly.
What data is traversing to the cloud and what does it cost?
How do I securely share services and VPC resources easily, while reducing operational risk?
How do we deal with IP network overlapping and challenges with application connectivity?
What can I do to access and protect data going to and from data lakes and data services (e.g. Snowflake)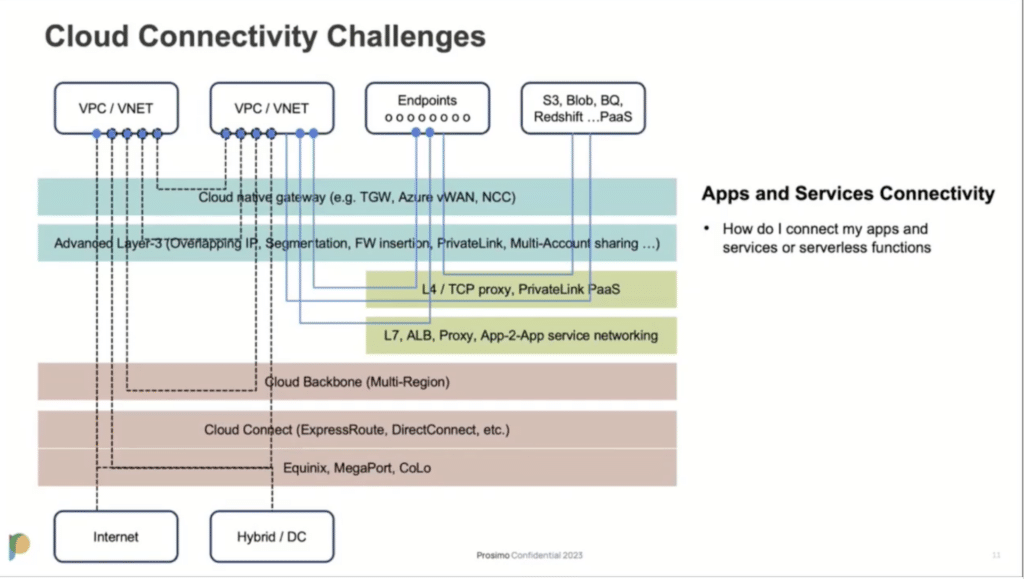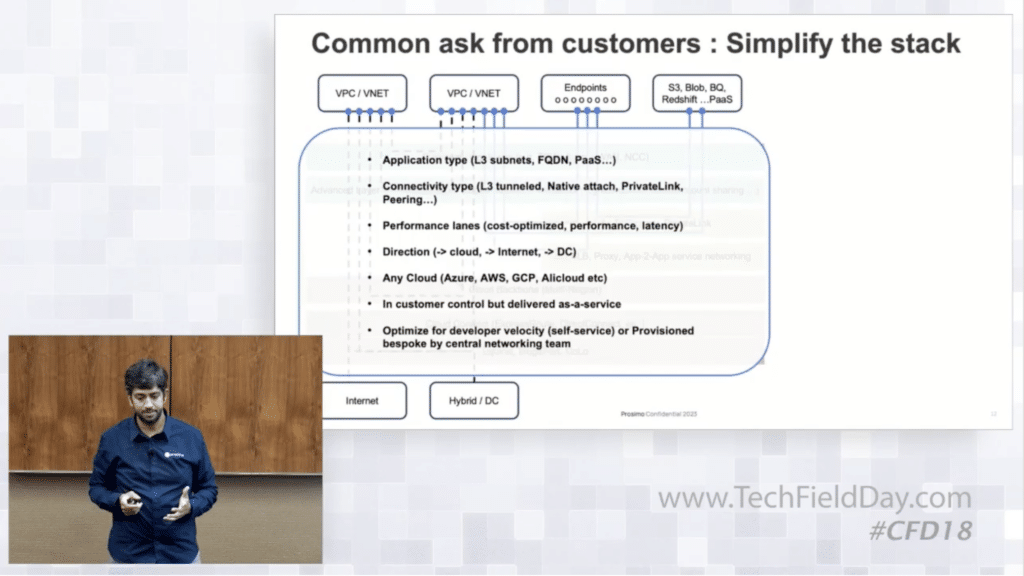 The reason you need to answer these questions and solve the complexity and cost challenge with hybrid cloud networking.
Acclerate cloud migration
Security and complance
Accelerate M&A and technology integration
Application and infrastructionre modernization
Developer velocity
B2B cloud
The network stack has to be modernized along with the growing number of next-generation applications.
Real Customer Challenges Being Solved by Prosimo
The best part of how Prosimo approached the presentation was how they framed the discussion around a real use-case that was experienced by customers to contextualize the capabilities and value.
Goals for the cloud customer included:
Standardize the current network architectrure based on Well Architected Framework
Establish private networking for PaaS services
How do I allow partners to access applications?
Make it easier for network / operations teams to operate and manage the network
Make the developer experience better to consume services without worrying about knowing networking
The "increase developer velocity" story is one that most vendors struggle with. I really appreciated that the entire Prosimo.
You Had Me at Brown Field
There are many products and vendors who talk about their ability to be a zero-to-hero type of solution. The catch is that most of the demos and examples show a brand new environment or describe building from scratch. Reality has proven that more "brown field" deployments are likely. You need to be able to put new services and secure applications in an existing environment to be a viable option for most companies.
As you can imagine, it doesn't take long before building and operating networks can become complex…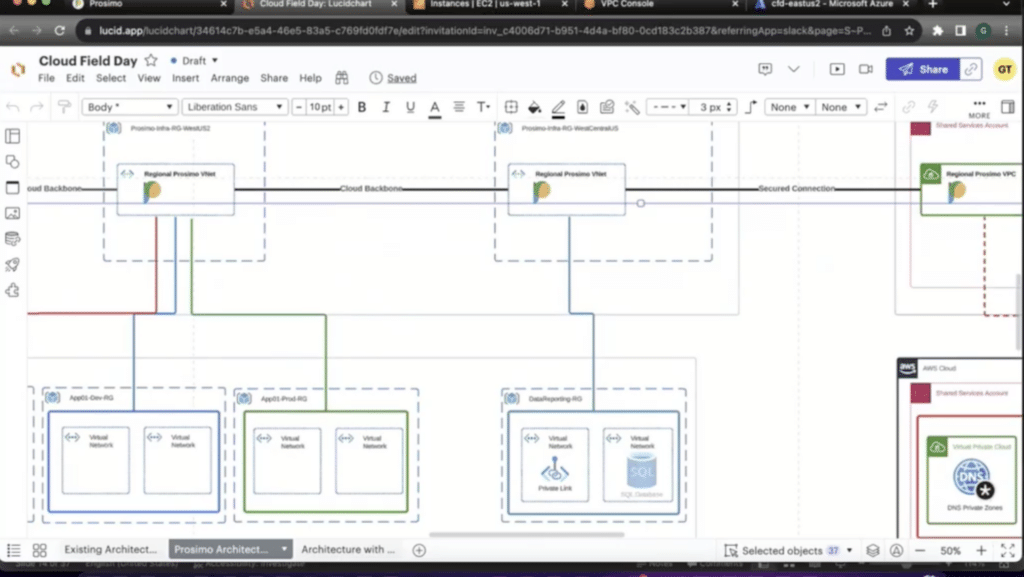 Policies and connectivity can be tricky to safely deploy with the built in tooling for cloud providers on-premises providers. This is also a reason why having a unified solutions that traverses the full stack.

The use-case story for the demo was very helpful because we got to dive into the tech capabilities but also see where it mapped to the real business outcomes. Prosimo is very thoughtful about how they describe the approach and methods.
Demo Time!
When in doubt, try it live. Kudos on a great start to the demo by Gaurav and the Prosimo team. We started with the brown field implementation. Onboarding beings with discovery.
Automatic Discovery of Cloud Assets
How can we discover what's running already in the cloud today? Can we build a catalog of our existing connections so that we can understand the patterns and policies? What happens when you have multiple clouds?
Check, check, and check. The demo walked through looking at the customer integration and how we are able to solve for those questions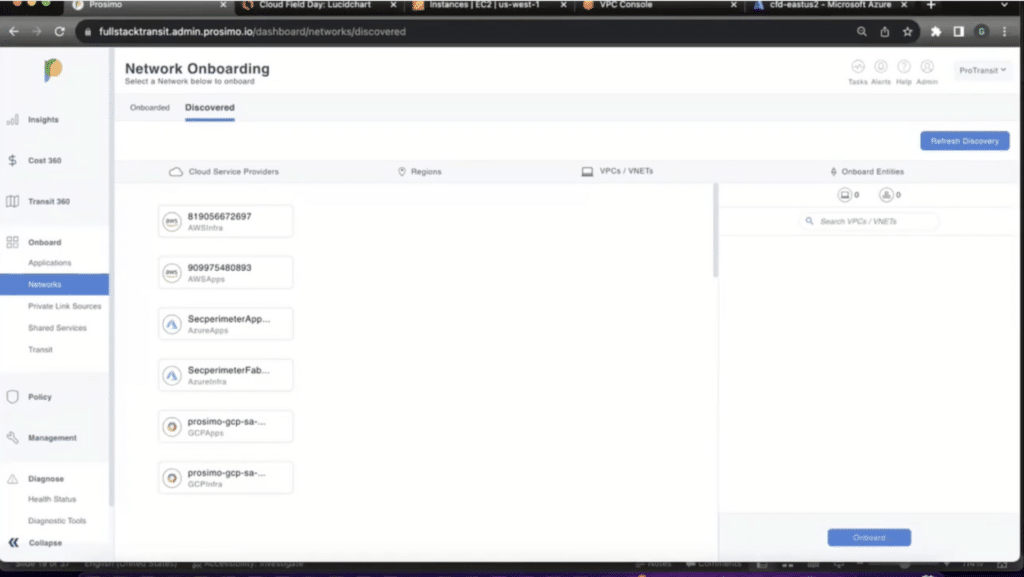 Discovering and gathering the initial inventory doesn't even require a Prosimo controller yet. You just have to connect to your cloud accounts and begin discovery to see existing networks, policies, and the entire topology.
The first target VPC is discovered and can be previewed as one to configure and control with Prosimo. We walked through the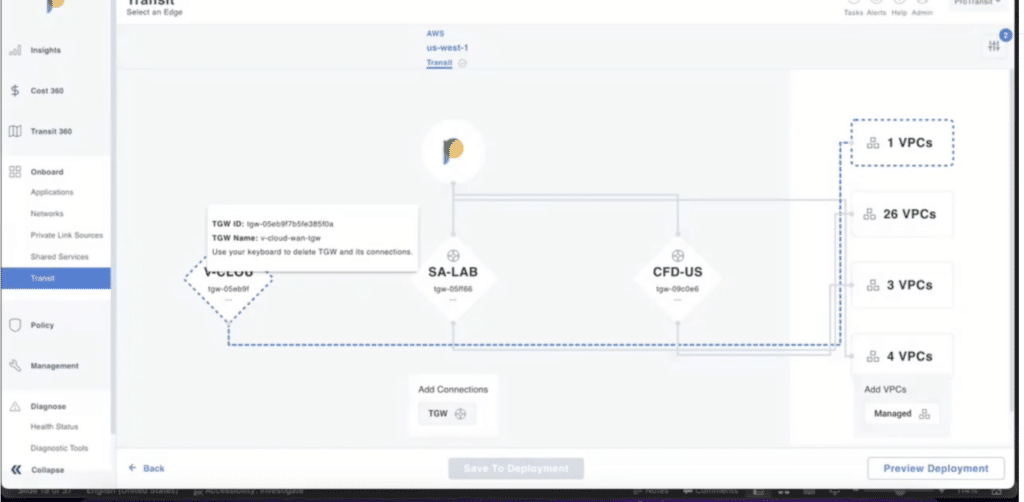 Being able to do pre-flight checks of any changes is great. As we look at the effects of modifying configuration, Prosimo also warns of changes pending so that we can preview the update.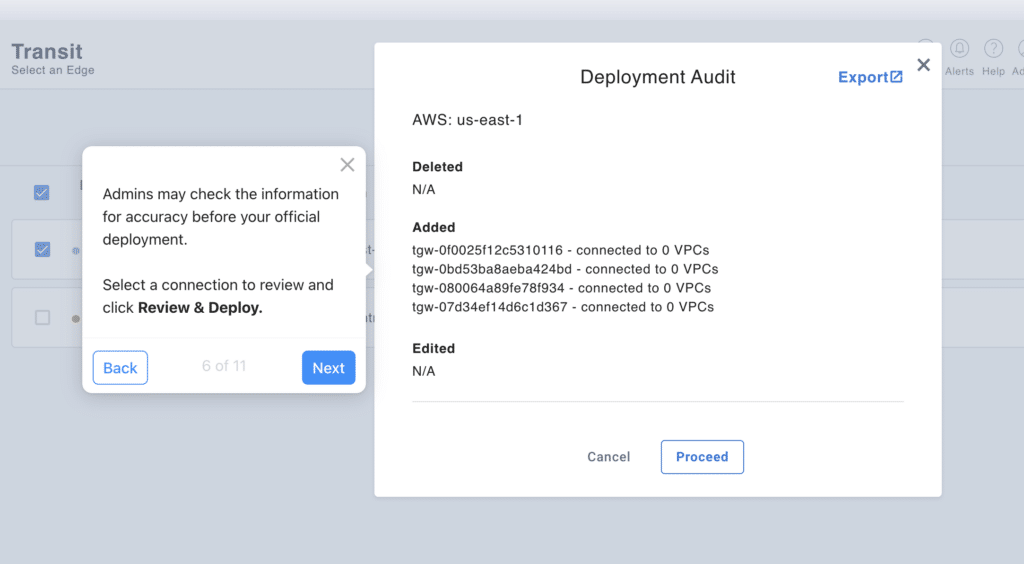 Moving further up the stack to the applications is ideally where we want to be. Onboarding your application services gives you a view of the currently available applications. You can click through to find policies that are active. what the resulting policies are, and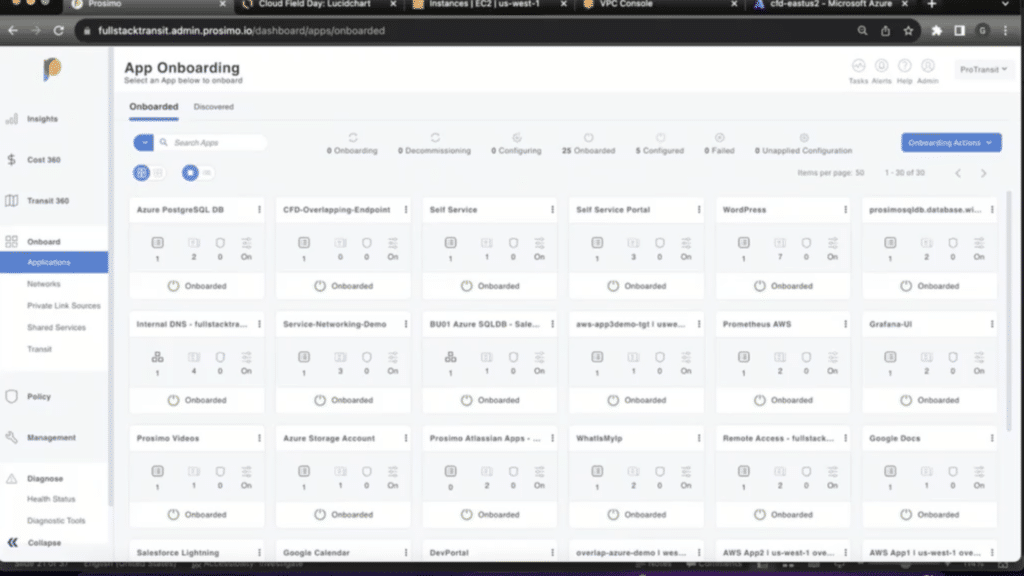 Evaluating the policy management for migration and active management was very well done by the Prosimo team in the presentation. We looked at how the platform is able to preview upcoming changes and the resultant set of policies.
Moving from IP-based access policies to identity and service policies.
Overcoming Overlapping IP Addresses
I've worked on company mergers multiple times. Every time ended up having colliding IP address spaces somewhere in the environment.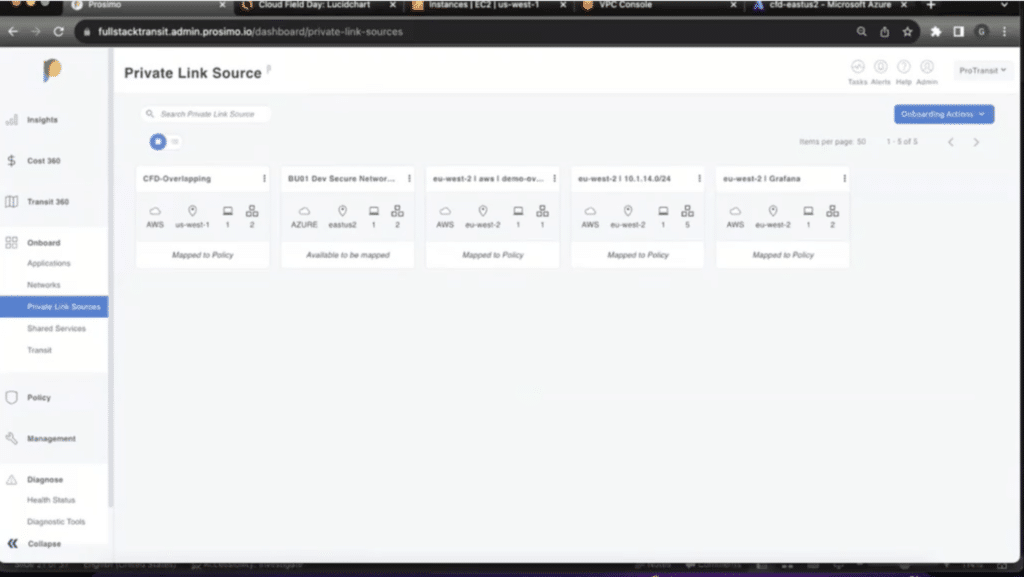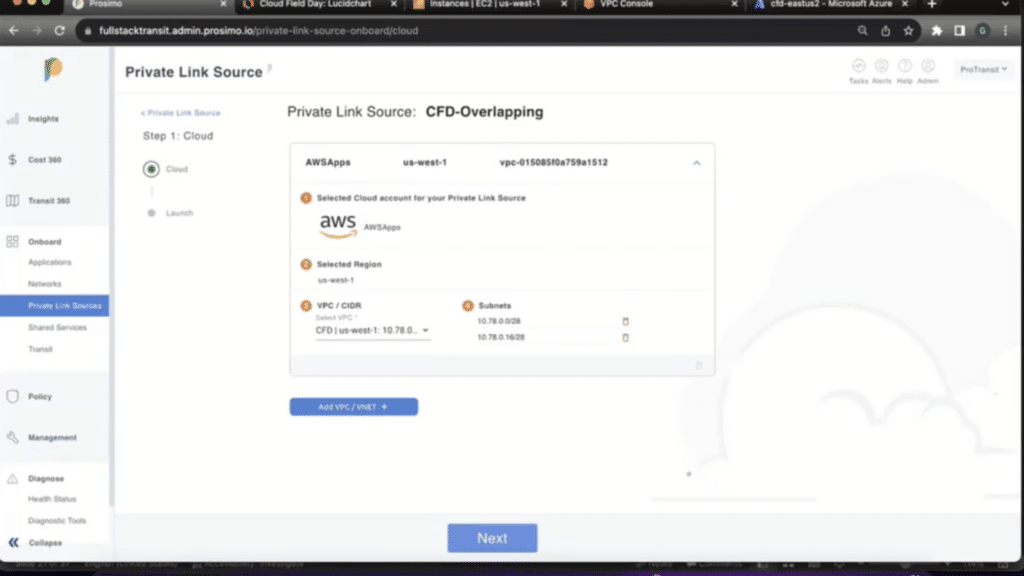 One Last Step…Troubleshooting!
We got into some really fun conversations and discovery chat. Seeing the observability and insights available showed off a nice view for tracing issues that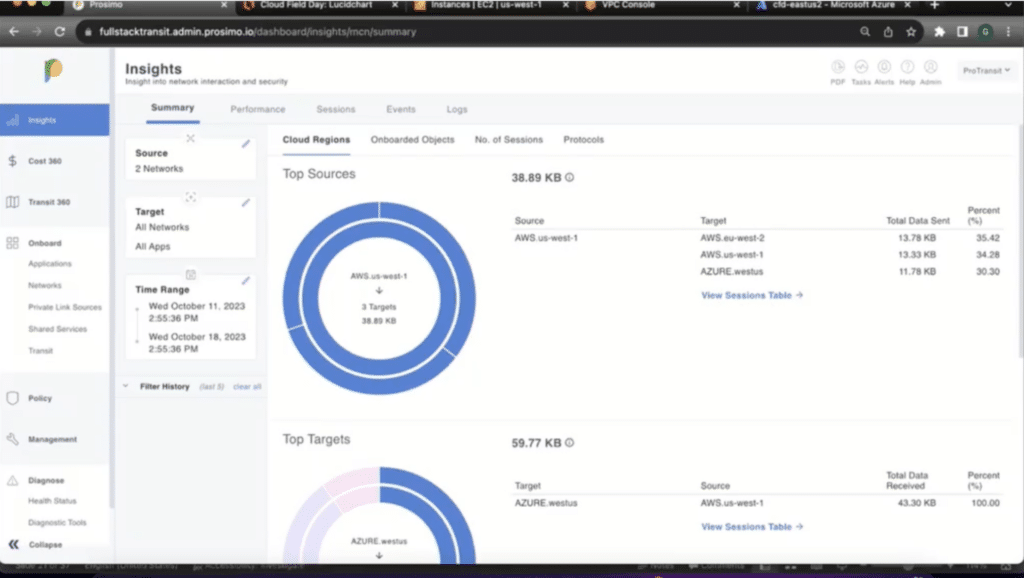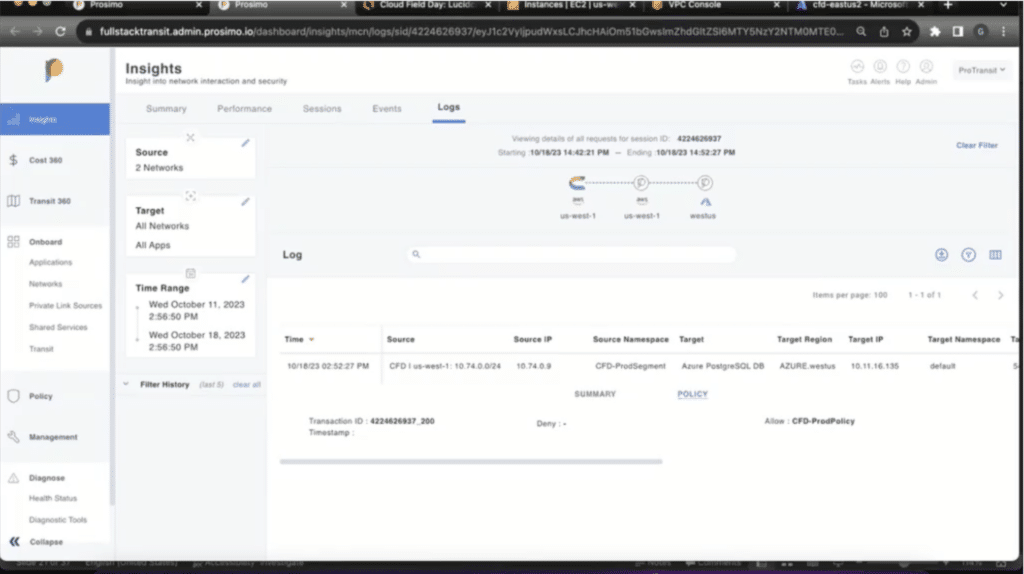 The policy simulation and pre-checks have valuable info and make it easy to look for pattern matching of connectivity failures, policy reasons, and much more. Very intuitive for folks familiar with cloud networking.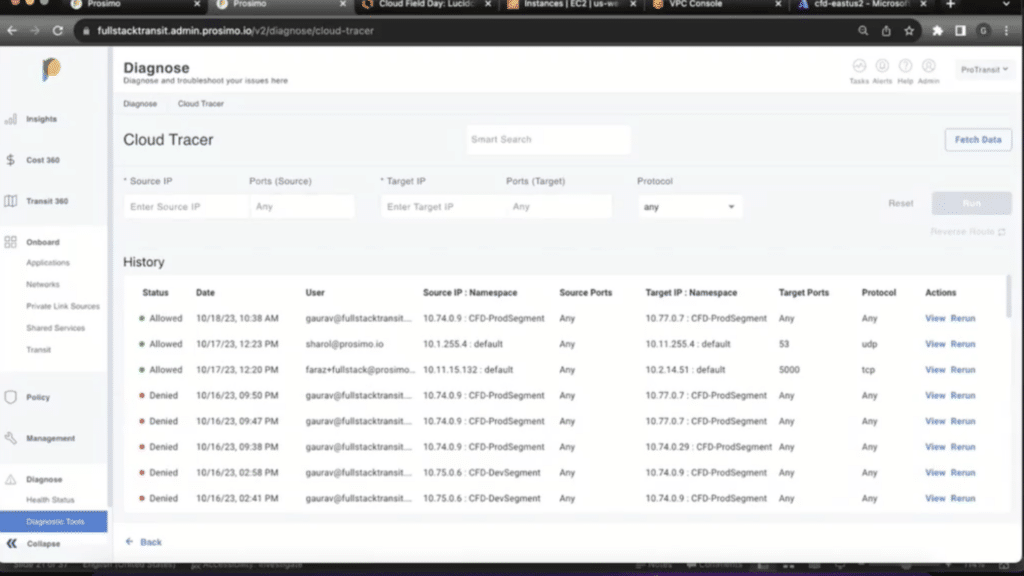 One more thing…cloud costs
We squeezed in a quick view of how the literal cost optimization opportunities come into play. You can use teh Prosimo Cost 360 feature to visualize costs and also look how you can map to chargeback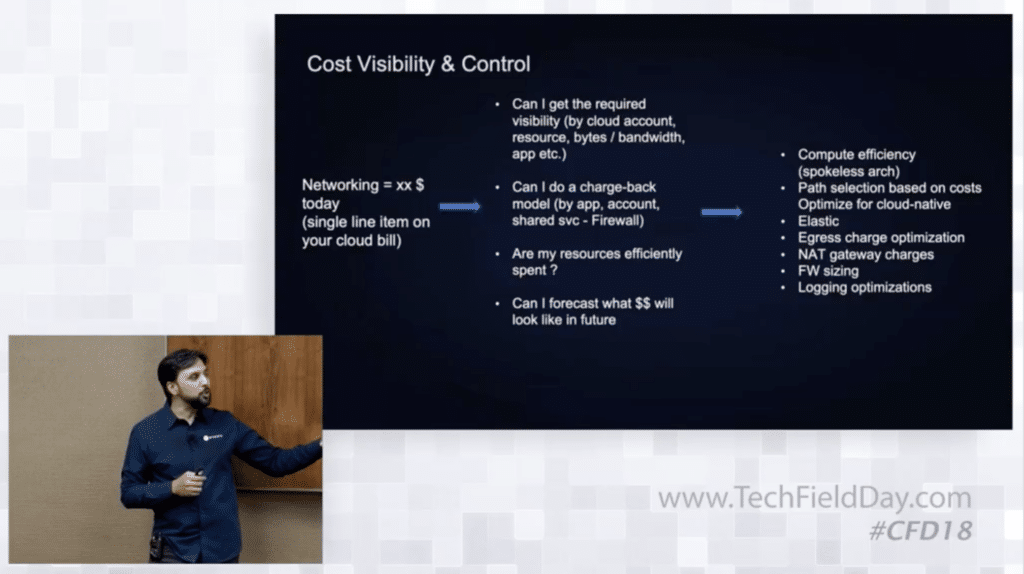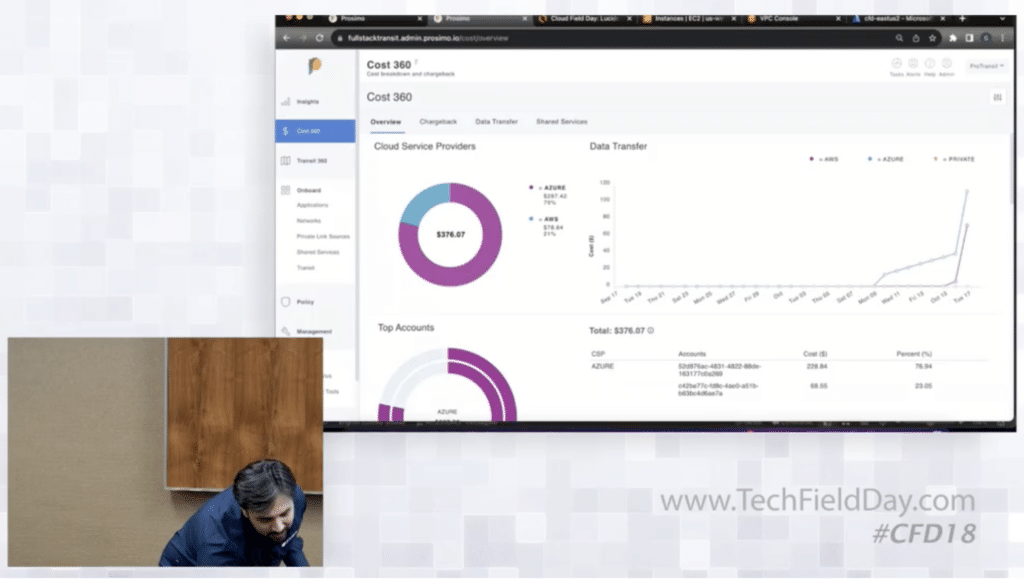 Watch the Video from the Event
My Thoughts on Prosimo
Two major points I want to raise with Prosimo:
As a platform – Prosimo has been keenly tuned into customer needs for multi-cloud and hybrid cloud networking connectivity and security. The use-cases are clear and they are good about not trying to be everything to everyone.
As a product team – They listen, and respond with intentionality. Seeing how the products evolved with use-cases and customer learning have become integrated in both their platform and the way they evangelize the value.
Having the granularity of control Prosimo offers and the overall UX for policy management and visualizing the state of the environment. Staying narrow in their approach to solve problems for the ideal network operations teams is a smart decision. Focusing on a "we do this, really well" approach and keeping in their lane is something that every vendor needs the humility to do.
I'm looking forward to lots more coming from the Prosimo team and hope to see them again in future Cloud Field Day events!
Check out Prosimo at their main page.
Visit the Prosimo sessions at the Tech Field Day site here.
Try the hands-on-lab at https://prosimo.io/cns
DISCLOSURE: My travel expenses were covered by Tech Field Day (GestaltIT) for the event. All analysis and content is my opinion from the presentation, discussion, and independent research.