The merger of AI and business is finally seeing the crowds arrive to share their success stories more at the IBM Innovate event which ended up trending on Twitter as a result of the active attendees. This was an interesting event which I was pleased to be at thanks to the IBM social team (thank you Anna Dreyzin!) as an influencer to cover the content and share with my readers.
Why Technology Matters
How do we solve the unsolvable? This is the question we need to all ask of ourselves when we look at what technology can do. The crowd at the IBM Innovate event is from a wide range of backgrounds and companies. The energy was high from the start, and the Sony Centre for the Performing Arts was a full house for the Toronto event.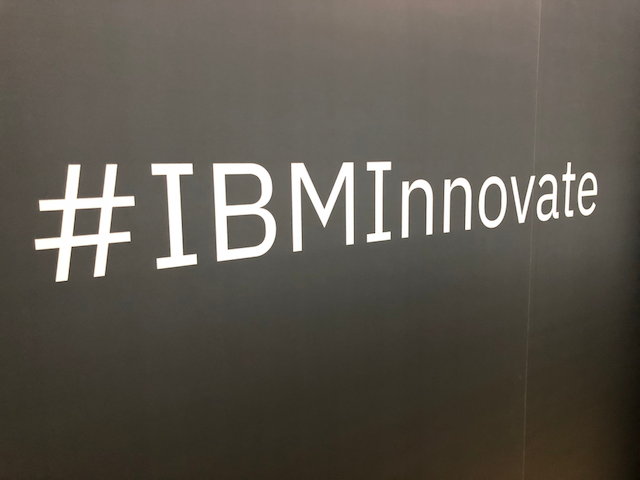 "You are making business smart" couldn't have been a better way to describe the theme. IBM has appropriately trademarked the phrase "Put smart to work". I ca very much appreciate that phrasing with my won company, Turbonomic which delivers on this idea as wee as SMART – Self-Managing Anywhere in Real Time. What we all are getting to is enabling smart people to do greater things with the use of AI and technology.
Ava – the Morneau Shepell Story
The first speaker was Michael Lin of Morneau Shepell talking about innovating people solutions. I was happy to see the focus beginning with how innovation is making a positive impact on people, and business. Starting with how to use technology to make the human experience better was the right way to go. The increase in human experience quality in and out of work and school means that technology really is having a meaningful impact. Top line business growth is powerful, but bringing the stories of true people-related impact was something that really hit home with the audience.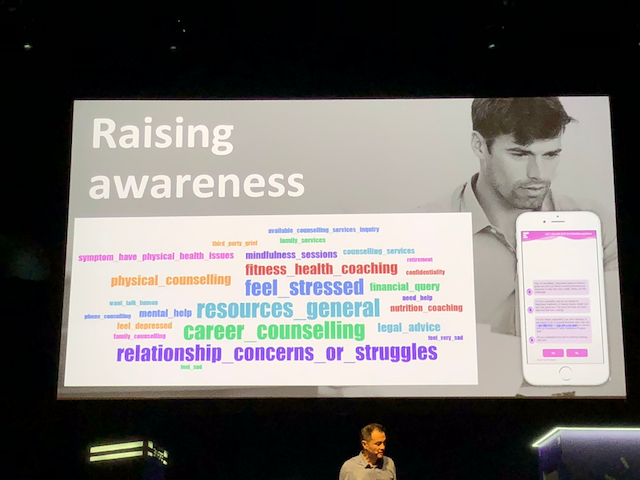 Morneau Shepell has a chatbot named "Ava" among it's offerings. This uses sentiment measurement and natural language processing (NLP) plus AI with Watson to move from just being a way to ask questions for folks needing help. Their goal is to push to the next level by actually adding and feeling the data (carefully anonymized for those worried about privacy) and to build towards a cognitive system that can detect and initiate early interventions to get people clinically assessed and extend the reach to effect more folks than they can today.
The goal is not to replace humans in the clinical assessment but to create a clinical, digital super-counsellor to get people the right help faster.
On Transformation with Wellington Holbrook
Wellington Holbrook is the CTO (Chief Transformation Officer) of ATB Financial. Leading with a story about how he truly didn't like the title to transformation because transformation used to be what you had to do when you ran out of things to do and had to shake things up. The ATB Financial mission statement was a well-worded and meaningful one. Wellington went through to describe how they defined the mission but then executed by disrupting from within to reach their goals.
Across an 18 month journey, ATB kicked off an innovation lab will full force. They moved to fully agile processes (project and technology teams) and went from 5 developers to 150. By taking an aggressive approach on processes internally, they moved from a 45 minute in-person experience to open an account to an app-based account process that started a digital and mobile-first experience goal. This began with a cloud-native approach to development on-premises
ATBalphabeta.com is where you can see the open discussion and learnings.  Thank you to the ATB team for sharing both code and the stories and learnings of their journey.
Quantum Computing with Dr. Robert Sutor
Exploring the limits is what Quantum Computing created for us. Great talk by Dr. Robert Sutor who opened up about the technology limits and boundaries that have been blasted past with technology innovation like quantum computing. This highly satisfied the science and technology nerd in me. It also mapped to clear use-cases like more rapidly moving data to speed up things like clinical trials, It also helped to start with a caffeine reference because the caffeine molecular model is represented at 10 to the 48th power, using 150 quantum bits (160 qubits) which cannot possibly fit into traditional computing models.
The largest computer in prototype is a 50 qubit system. There literally is no system in the world that can hold a caffeine molecular model. That's pretty awesome to wrap your head around.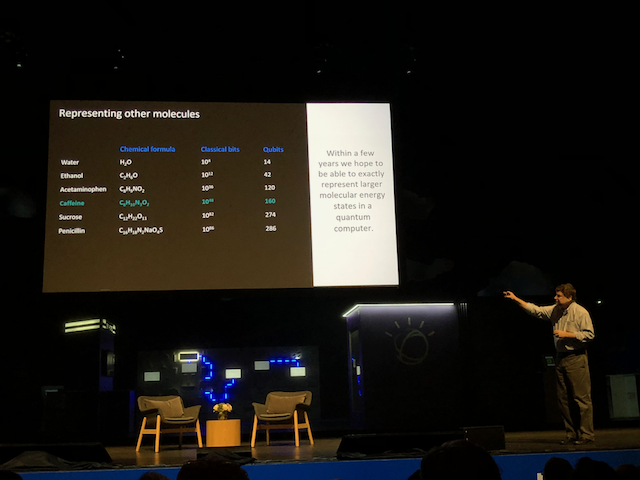 "Quantum computing is not 2.0 of anything" which becomes a mind bender for many folks. This is not an iterative development or innovation on existing computing. This is how Dr. Sutor described as if "aliens came down and said here you go, here is a completely different way to do things.". In 1 qubit there are two dimensions which vastly changes the capability versus classical computing architecture. The math and science lesson began. So cool!
Security Time with Chris Esemplare
While the good folks are using AI, so are the bad ones. The macro trends show that 50 billion devices will be connected to the internet by 2020 and an estimated 8 trillion dollars will be lost to cybercrime. There will also be an estimated 5 billion personal data records stolen. The gap that is needing to be filled is also made complex by challenges in regulatory environments, the lack of skills to attack the issues, and too many tools in play which is causing confusion and adoption issues.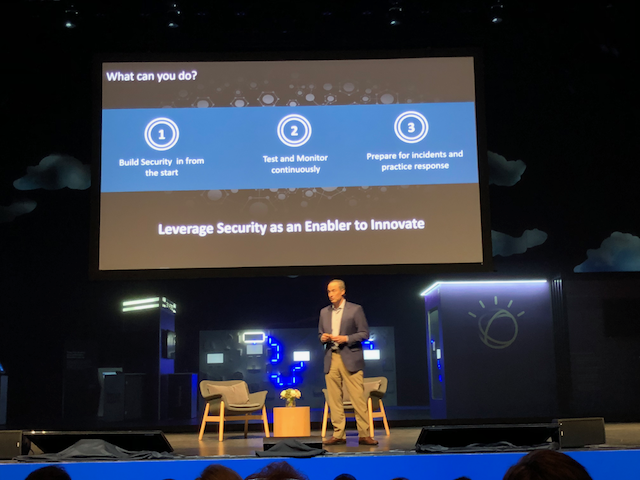 The balance of fear versus mapping to real use-cases that are meaningful and impactful is a challenge. The digital security battleground is active and always will be. Even if we take out the fearful stories (hacking kid's monitors and webcams" and focus on purely the digital identity and monetary impact, the move to AI for these battles is not only inevitable, but it's critical and necessary.
A quote that was used and has been well-represented in the security field is "The bad guys have to just get it right once. We have to get it right all of the time"
Chris went on to share a personal story which I'll put onto a podcast because of the depth and meaningful content it contains.
Transformation Chat with Uli Boedl of Boeringer Ingelheim
The discussion on stage with Uli Boedl brought together another amazing story of how to increase the speed, accuracy, and trust of clinical trials and the process which has been augmented by using blockchain as part of the solution. We all know that blockchain is becoming a bit of a buzzword, but the reality is that this is among many incredible ways to use blockchain and to solve challenges of trust in data at scale.
Uli and the Boeringer Ingelheim team leveraged a permission blockchain to ensure that permissions and roles are managed and maintained throughout a complex and decentralized process when it came to their work in trials. I've studied some of the work that Boeringer Ingelheim has done and their mission and approach to the challenges are admirable. Strength in trust and transparency that leads to disruption and innovation. Sounds like buzzwords but the truth is in the results. As a 130 year old company that has reinvented itself repeatedly,, we should all take some guidance and learning from what Uli and their team at Beoringer Ingelheim are doing.
Chat with Kelley Irwin and Ayman Antoun
I have to start by saying that I'm lucky to have worked with Kelley in the past at a previous organization so it was especially exciting to see her here on stage sharing a CIO perspective on reinventing an organization at Economical Insurance. Ayman Antoun, President of IBM Canada, introduced Kelley and led the chat.
The journey for a 147 year old company to a truly digital and agile firm both from a systems perspective, but also by moving into different channels (broker-focused to digital self-service). Imagine redefining your business model at the same time as changing the underlying applications and back-end processes that use them.
Listen – listen to your customers
Learn – learn as we implement change and bring the feedback to the process
Surprise – surprise the customer with better than expected
The surprise was great to talk about as the goal of their direct to consumer experience with Sonnet (a digital brand extension fo the broker model at Economical). They say that many of their early customer calls are to check that it really was just that easy to sign up and get their insurance. That's a nice surprise.
They also launched a similar experience for their brokers to help merge the experience a bit. 37 different components make up the overall solution. The challenge is making look simple to the customer. Not only do they bring in lots of data and systems, but they also include AI to detect fraud and security risks throughout the process. The importance of this not being an afterthought cannot be overstated. The case with Economical is even more important as they pursuing a path to becoming a public company.
A great discussion happened around the hiring and talent challenges we have in the world. Their team at Economical is comprised by 40% with manny years of experience at the firm and the remaining percentage with less than 2 years.
Let them be heard and embrace the ideas that are brought to the table by newcomers and those in diverse and under-represented areas of the team and the industry.
I also appreciate that Kelley really nailed down how important being agile is less about the methodology and the word than it is about really achieving velocity. Moving to MVP fast is not automatic with agile, but using agile methods does help to get you there. There are big challenges when it comes to doing budgeting and planning for companies with more traditional financial cycles. Kelley is running an education series with the CFO and management team to bring them closer to understanding how their velocity and agile approach are delivering platforms and how to better map the financial models to the new way of delivering products.
A quote that I very much enjoyed was this:
"There has never been a better time to be a great CIO. There has never been a worse time to be an average one"
The Theme is Clear – People Using Technology to Positively Effect People
Being in a technology vendor reminds me of the power we bring to the modern world.  AI is an incredible tool and the foundation of what will be some incredibly valuable future development in applications and infrastructure.  There is a reason that we talk about People, Process, and Technology in that order.  People do great things with processes through the use of technology.
Thank you to all who were at the event and to the IBM social media team for inviting me to be a part of it.  It was a pleasure to share in the day and talk with so many fantastic people.